Have you ever wondered what it is like to have no daily work routine and no steady plan with every day being different than the one before?  You can get a taste of this experience by spending the whole evening in a room full of people for whom there is no such thing as ordinary work environment. They are called journalists.

The life of a working journalist in a newsroom was explored during the "Working in Journalism" event, hosted by the Royal Television Society last week. Media professionals held a debate on how major broadcast companies deal with the huge amount of information received on a regular basis. They also explained how new technologies affect the news-gathering process.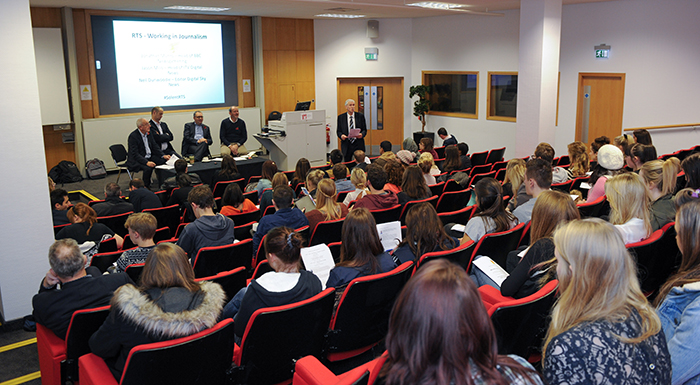 "There is nothing normal, long hours, changeable situations, some people call them problems other people call them challenges, and one of the joys of this job is that we never really know what is around the corner," says Martin Webster, a BBC South producer.
Martin Webster also highlighted the importance of carefully deciding the news running order, especially picking the top story of the day, because satisfying the audience is priority. "There is a danger that we decide on the news agenda based on what we like, but actually we are providing news for the audience not for ourselves, and our audience is larger than Scotland," says Webster.
Do you know the feeling when you are watching a horror movie and you do not have the guts to finish the scary scene, but at the same time your curiosity goes beyond your emotions? Webster illustrates how this same notion applies to the news by saying that people tend to show interest in hard news, especially when they represent crimes and murders.
"Bad news sell more newspapers than good news. I think people, because we aim to be a magazine program, they want quite often stories where there has been something wrong or someone has been killed, they tend to be stories that grab people's attention. So, I think they all have a place in the program and sometimes we tend to lead on those stories rather than the good news stories," says Robin Britton, who is head of ITV Meridian News.
According to Britton, the way his team tends to organise their news program is based on the stories that people talk about most and their "job is to find the facts," added Britton.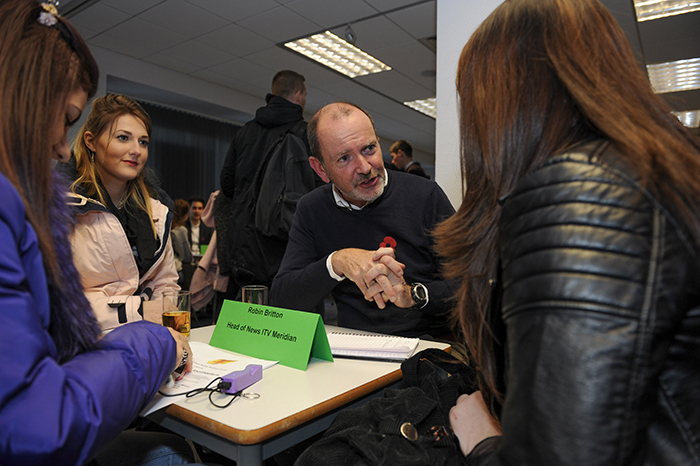 Although, from Webster's point of view it is of significant importance to have the right balance between hard and soft news, he also added that there was a famous broadcaster called Martin Lewis, who many years ago said that he wanted more happy stories.
"If you end up with too many stories that are hard news, what we call death and destruction, that is going to be quite boring and we do not want by 7 o'clock our audience to think this program quite depresses them," says Webster.
Quite often, viewers do not realise the power they have in their hands. People as an audience dictate in their own way what to watch and what type of news to consume. Simply, the aim of the media is to build a stable relationship with every member of society, so they know how to meet their requirements and news needs.
"So, what we do is to try to find the stories that are going to connect with our audience, the stories that are going to make them watch. Human-interest is what I am interested in," says Webster.
Britton illustrated one aspect of how ITV Meridian News organise their program. "The most important part of the whole show is that first minute, when we say we've got this coming up, we are doing this story, and this is our top story.
If we do not get people's interest at that point, they are not going to carry on with us. So, that is how we decide which would be most relevant to our audience. If our stories are not relevant, people will sit there with their remote control and they turn over," says Britton.
Speaking about technology and the external power that it has on the traditional journalism, Britton agreed that it does affect their work and deadlines are now coming sooner.  Because technology allows for quicker news dissemination, it makes journalists think about ways to get their news faster. "We have to get a balance between immediate news, and news where people sit down to watch and we still get half a million viewers for our 6pm news around the country and we still hit more viewers than the X Factor every night," says Britton.
Another aspect in gaining viewership seems to be trust, according to the 2014 Edelman trust barometer, which measures trust in the media and freedom of the press, only 41% of the UK public trusts the media.
"I think the BBC is a brand and is very trusted, so I think you may find that the people will come to the BBC first because they feel they are going to get a fair crack that is putting their side across," says Lewis Coombes, broadcast journalist at BBC South.
Further to this concept, Tara Russell, who is a senior feature writer for Southern Daily Echo, debates that credibility and who you are working for in particular are extremely vital, because people like to research brands online to get more information. Russell also argued that: "To make someone talk to you, they have to really like you. A journalist has to build that relationship and trust within a few minutes. Yes, it is about the brand, but it is also about your personality and reliability".
There is no doubt that journalism work requires pure dedication and hard work. According to Webster, if you are not willing to sacrifice part of your personal time, then maybe you are not ready to dive into this industry.
"I think journalism is one of those things that I tend to think about all the time. Yes, I have my social time but in the back of my head I'm always thinking," says Ena Miller, broadcast journalist at BBC South.
Social Networks
The increase of new technologies has definitely affected the usual daily routine of people. But have Twitter and Facebook made a relevant change in the big broadcast companies' routine?
Lewis Coombes admits using Facebook to get details on news stories and more in-depth information, he says "Twitter only gives you 140 characters, it is quite difficult to get your story across." Coombes also says that people who tweet tend to consume the news faster than those who don't. "Let's say Twitter for consuming news, Facebook for finding news".
Britton says that social media is a good source of information, but never fully trustable. "We treat anything with a grid of skepticism. I would never publish something out that's been on social media without checking it."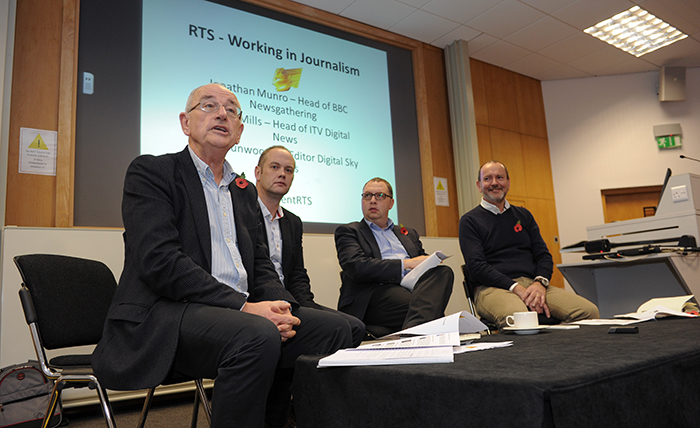 After years of trust trying to build audiences, major broadcast companies prefer to rely on getting all the information correctly to maintain the public, according to Webster. "For me, accuracy is still the key. Spell somebody's name wrong and people do not trust you."
Webster also reveals that even though most people think new technologies might change routines, the skills journalists must own haven't changed over the past 40 years. Being able to get people to talk, engaging, finding interesting stories and keeping a curious mind are still abilities necessary for the job. "If you don't have these basic skills, it doesn't matter how many platforms you've got, as you need the right skills to be a journalist."