THE BREAKER is an award-winning news and features site run by the MA Multimedia Journalism (MAMMJ) students at Bournemouth University, United Kingdom.
It showcases a range of reportage, from local and national news to culture and sports, using multiple media formats. The Breaker has several affiliate multimedia channels, and is available on Shorthand, YouTube, Spotify, and Soundcloud, as well as on Instagram and Facebook.

History

One of the first multimedia journalism master's courses offered in the UK, the MAMMJ has a history of online publishing that dates back to the 2000s, to the early days of Adobe Dreamweaver and online journalism.
In 2012, we launched a web site to consolidate the journalism from the course. Liisa Rohumaa, former Financial Times deputy editor and then MAMMJ academic, suggested a name that connoted not just the heartbeat of news reporting (and the disruptions the profession is expected to create in a healthy democracy from time to time), but also the essence of the wonderfully wave-swept Bournemouth coastline. Thus was born The Breaker.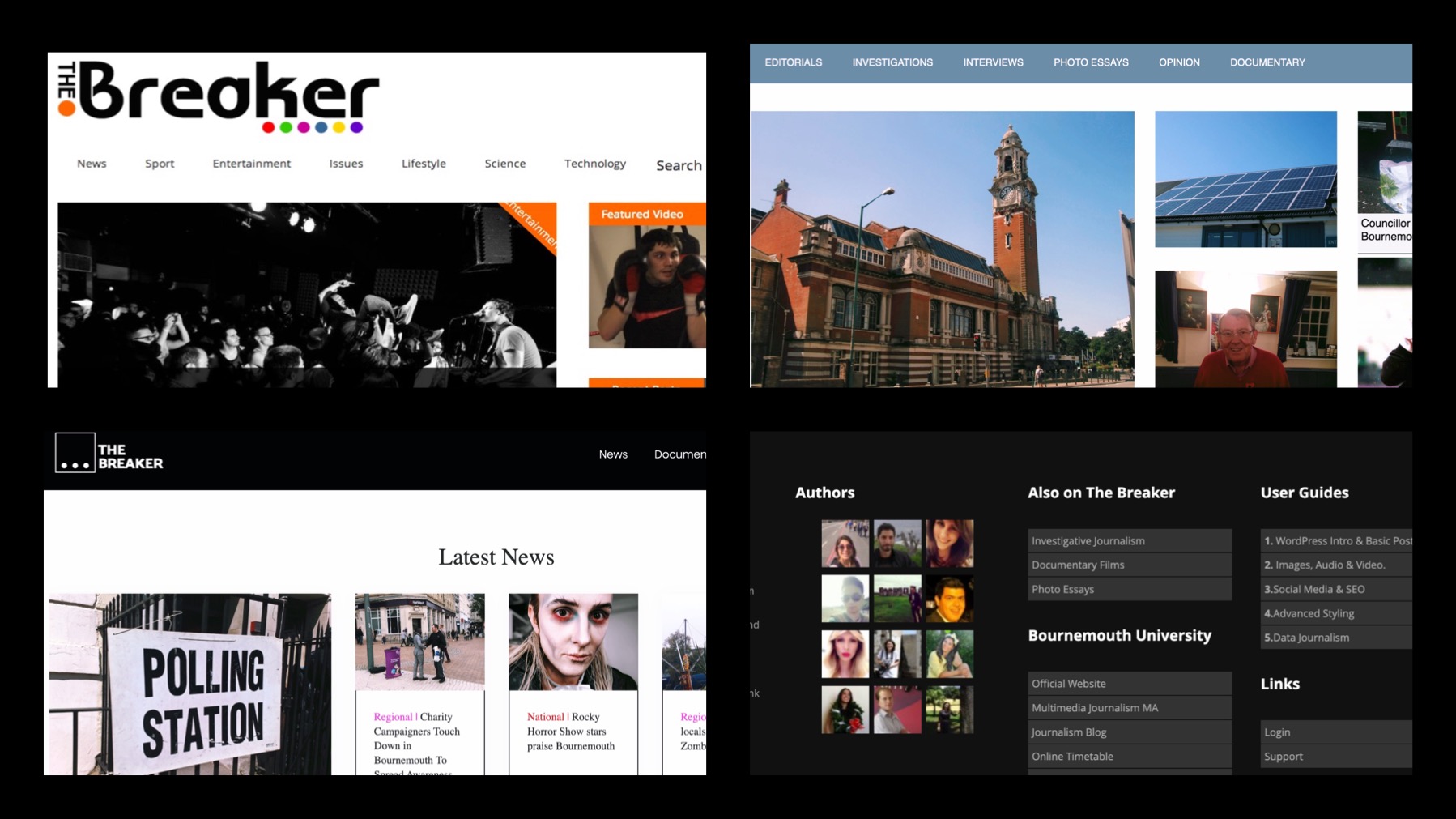 Since then, it has evolved into a dynamic and diverse site that reflects the changing media landscape and the skills and interests of its contributors from across the world. Over the years, students have published more than 2,300 stories in different genres on The Breaker – news, features, longform, investigative, and interactive, among others.

Awards

The Breaker has won multiple awards from the Broadcast Journalism Training Council (BJTC), which recognises excellence in journalism education and training. This includes the Best Online News Site in 2022, for our journalism which included reportage on the Ukraine invasion, and the site was praised by BJTC judges for its "compelling headlines", "diverse range" and "contemporary" design.
Previous award-winning journalism from Breaker journalists include:

Training

Breaker journalists often come from a variety of disciplines, nationalities, and experiences. They receive a four-day intensive bootcamp when they join MAMMJ. From 2023, all Breaker journalists are administered the Breaker Pledge, which underscores our ethos of responsible journalism. You can listen to a 'swearing in' below.
After the bootcamp, students are trained on curricula that blend theoretical knowledge and sumptuous opportunities for practice-based learning. These include 'newsdays', where students work together to produce multimedia coverage against tight deadlines; as well as specialised journalism outputs produced for modules such as Documentary Journalism, New Media Innovation, and Journalism Projects.
Further, Breaker journalists also get the opportunity to participate in international reporting projects led by staff members, such as Project India (when students journalists helped cover the Indian General Elections in 2014); Aftershock Nepal (reporting on the aftermath of the Nepal earthquakes in 2015-16), and, more recently, the Tie u Orja projects (collaborating with journalists in Sierra Leone to strengthen crisis journalism).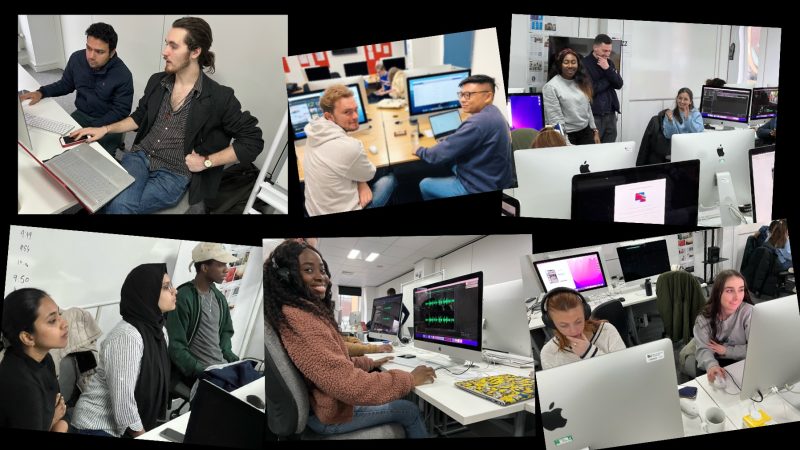 Ethos

The Breaker celebrates diversity, equity and inclusivity in its newsroom and journalism. Our students come to us from across the world: Turkey, Spain, India, China, Japan, Nigeria, Pakistan, Germany, Vietnam, and UK, among others.
Our approach to journalism is international. Also solutional, in that we try to go beyond merely pointing fingers. We treasure diversity of voices. We value gender equity. And we try to focus our students' attention on the pressing issues of the world today, such as climate change, conflict, poverty, etc.
We also encourage experimentation on the course, allowing students to work with different genres and evolving platforms, including generative AI. This allows students to be current, future-aligned and innovative in their journalism.

Editorial mentorship

The journalism produced on The Breaker is guided by a team of academics and technical staff, most of whom are working journalists or journalism professionals in their previous careers. They provide guidance, feedback, and editorial support to the students throughout their course. We follow a practice of 'mentored immersion', by which we expose students to hands-on journalism with structured editorial guidance.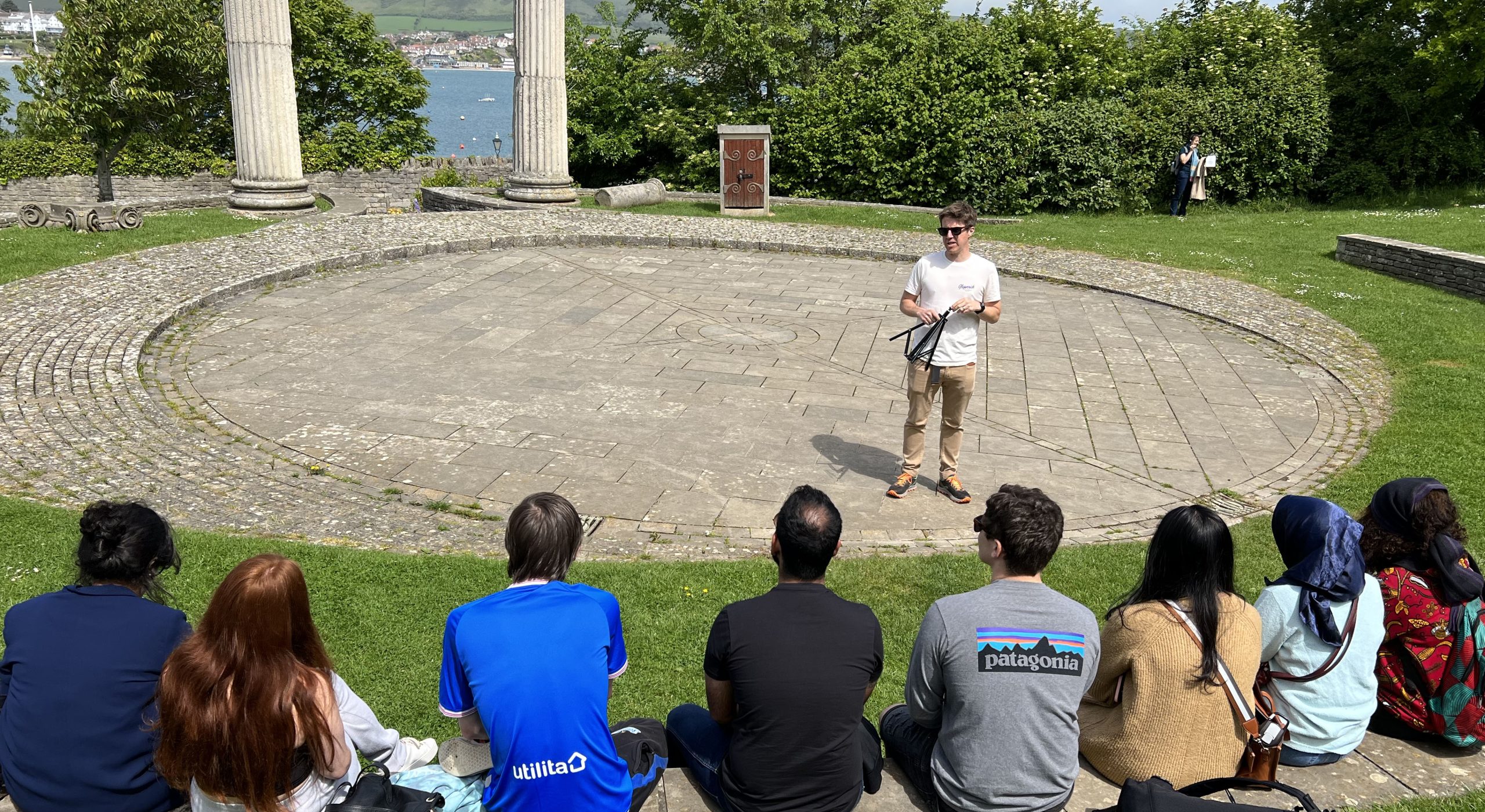 Chindu Sreedharan leads the mentorship programme on The Breaker. If you have any suggestions, questions or comments about our journalism, please do write to him. The most efficient way is to email csreedharan@bournemouth.ac.uk.

Licensing and republishing

All of the stories, pictures and graphics on this site are the work of students enrolled on MAMMJ (except those published on the Breaker Academy, which is mostly written by staff members). Some work might have been created with generative AI (where so, it has been acknowledged).
All our articles are published under this Creative Commons Licence. You may republish our stories as long as you give appropriate credit to our journalist(s) and link back to The Breaker, and there are no substantive changes to our content. Our journalism has been featured by professional outlets previously, including the Daily Echo and Hope FM to newspapers in Sierra Leone. We are proud of our students' achievements and welcome more opportunities for collaboration and exposure.

Corrections policy

At The Breaker, we do our best to be accurate at all times. But we're human. We do make mistakes. Please contact us if you spot an issue with our stories by emailing csreedharan@bournemouth.ac.uk. We will correct serious and factual errors and append a correction note at the end of article concerned. Typos, punctuation errors, and misspellings will be corrected without notice.