South Western Ambulance Service (SWASFT) have issued an estimate that frequent callers take up over 200 hours a day of emergency service time, which could be used to help people who need immediate help.
People who call 999 for non-life threatening emergencies do not only cause annoyance or inconvenience to the ambulance service, but they can also be penalised, from Criminal Behavioural Orders, to Fines and Custodial Sentences.
SWASFT, which is an NHS Foundation Trust, has a team of people who work with patients and other health care services who manage the calls with a four-stage process, which includes identification of a frequent caller, and a review.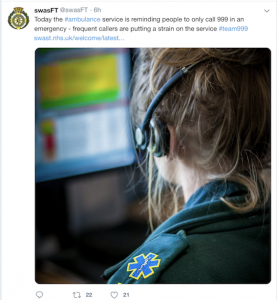 The ambulance service acknowledge that some people may have complex medical conditions that require continuous support and frequent access to care.
They also stated that individual circumstances are considered and they ensure that 'support can be put in place to prevent the regular calls' in the future.
There are currently 2,000 people who are 'abusing the system' across the South West.
Most of them suffer with mental health, substance abuse, or dementia.