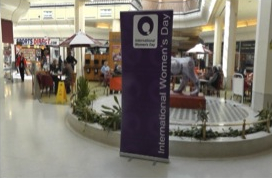 Women in the local area have joined together at the Sovereign Centre in Boscombe to celebrate International Women's Day.
Many different services came out in support of International Women's Day and to offer more information about themselves. Two hundred white carnations were also given to women to symbolise peace and good luck.
Organiser, Julian Sandy said: "Today is about celebrating aspirational women around the world. It is about unity and women coming together, we've got a great range of local services here providing information for women if they need it."
Services that attended the event included; Dorset Race Equality Council, the Townswomen's Guild, Dorset Police action for women network and the Butterfly Foundation.
Vice Chairman of Bournemouth's Townswomen's Guild, Ursula Sait, said: "The Townswomen's Guild can offer support and stability to women whilst playing a vital role in our community. We are hoping to open another group here in Boscombe and are urging women to join."
Lyris Nicolet of The Butterfly Foundation, said: "We help survivors of domestic violence and help channel their recovery through arts and drama. We are here today to raise awareness and to let women know we are here if they need us."[FMP height="360″]http://www.thebreaker.co.uk/wp-content/uploads/2012/03/IWD-THE-BREAKER-H.264-for-Video-Podcasting.m4v[/FMP]
Face painting was provided for children and lots of information on children's services was available to hand from Bournemouth Borough Council.
International Women's Day was honoured for the first time in 1911 and is now a national holiday for many countries including Cuba, Ukraine and Mongolia. Although it is not a formal holiday in the UK, events are held all over the country in recognition of women.
For a look at The Breaker's timeline of the history of International Women's Day, click here.