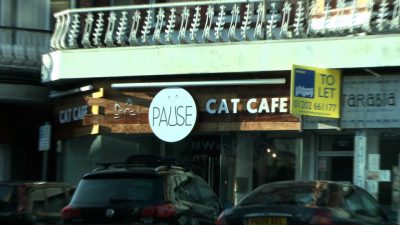 Bournemouth's first ever cat café is officially open for business.
Pause, on Old Christchurch Road, opened its doors last week after a successful fundraiser campaign in November last year.
The café, situated opposite Horseshoe Common, allows customers to eat and drink alongside a variety of cats that all live onsite.
Owner Jaya Da Costa says her aim with Pause was to provide the same sense of relaxation that being around cats gives her.
"I've always found being around my rescue cat has been really therapeutic for me," she said.
"It's a happiness inducing thing, and I just want to share that with a lot of people."
Individual cat bedrooms
Jaya says she has made sure the animals have the best possible environment in which to live.

"They can get away from people if they're not feeling very sociable, and they can have space away from other cats as well," she said.
"We've really thought the layout through in that way – they've each got their own individual cat bedrooms they can go to anytime they want."
Jaya also emphasises the amount of care towards standards of hygiene within the café.

"Of course when it comes to mixing animals with food we've also had to think that one through very thoroughly," she said.
"We've been working very closely with [people in] environmental health from the council, and we've got our kitchen set up in a very clinical way to separate the food from the cats."
What do the public think?
The Breaker approached members of the public to ask their thoughts on the idea of a cat café opening in Bournemouth.
One resident, Amy, said: "I think it's a very exciting and unique idea – I think it started in London so it's quite cool that it's reached Bournemouth now."
While Andrew said: "Having food with all the cats around you sounds really fun, if a bit unhygienic."
Danny, however, said: "It sounds like a great idea, though I wouldn't personally go myself as I'm actually allergic to cat fur."