Reporting by Dan Crossen & Agnieszka Bak
The planning application for a new development in Bournemouth town centre has been approved this week, in what is being hailed as the first step towards its economic regeneration.
The development is being undertaken by the Bournemouth Development Company, a joint venture between Bournemouth Council and Morgan Sindall Investments, and is the first to come out of the council's ten-year plan to revive the town centre.
The plan, which received no opposition in the application stage, is to build a five-storey housing complex with space for a cafe or restaurant on the ground floor at Leyton Mount in Bournemouth town centre.
Construction of this site, which is located on the corner of Old Christchurch Road and Madeira Road, is expected to commence during summer and will take 18 to 24 months to complete.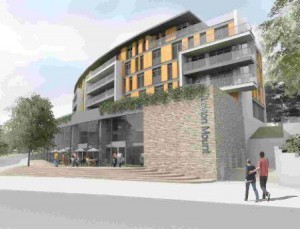 The  site is currently occupied by a car park which will be closed down, however there is a plan to build a new multi-storey car park only 200 yards away in the near future.
Cllr David Kelsey, chairperson of the council planning board, claimed that the development would benefit everybody involved. He said: "It's going to improve the lot for everyone, its going to help the financial situation for both the council and local businesses.'
Cllr Kelsey said this would be achieved by using local businesses for construction in order to feed back money into the local economy.
Duncan Johnston of The Bournemouth Development Company,  was equally positive about the development. He said that it would act "as a catalyst for change – increasing the number of people living in the town centre, generating trade for local businesses and creating more of a balance between daytime and evening activities along Old Christchurch Road."
The specific plans for future developments have not yet been put forward but they include new homes, retail and business space, and tourist attractions.
On Thursday March 1,  an exhibition will take place in the Norfolk Royale Hotel which will outline further proposals for Madeira Road.
As part of the council's ten-year plan, Bournemouth Development Company will make financial contributions to local recreation facilities, heathland management, transport infrastructure and an affordable housing provision.