Bournemouth University varsity basketball team's seven game winning streak comes to an end, losing 71 points to 86, against the University of Exeter.
From the out, BU players were looking confident, even cocky. The body language of the BU players was very positive and animated whilst they were warming up just before the match. The University of Exeter's players on the other hand looked focused and calm, as if conserving energy for the match.
[one_half]The BU Sports Hall was fairly quiet with 17 to 20 spectators from BU. Since the guest team didn't have any support, their bench players were playing the role of the fans and were buoying up their team while sitting on the benches. Though, the hall did start to get more crowded as the game progressed. In the first quarter of the match University of Exeter dominated BU, but few lazy legs were evident. Seemingly, the visitors were following a prescribed strategy, going by the book. During the second quarter the match was more evenly poised with BU keeping possession better.[/one_half] [one_half_last]
Scores after:
First quarter: BU 17 – 19 Exeter
Second quarter: BU 32 – 38 Exeter
Third quarter: BU  59 – 66 Exeter
Fourth quarter: BU 71 – 86 Exeter
[/one_half_last]The home team was trying hard, in fact, too hard to maintain possession and dominance over the opposition. Soon the BU players were shouting out their frustration and trying to make a comeback in the match. [one_half]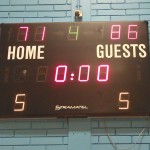 [/one_half] [one_half_last]
In the 3rdQuarter home team did make a comeback but the guests retaliated even harder and continued their domination. In the second-last quarter of the match there was some methodology in BU's team but it was too late.
Just before the final quarter, the angry voice of BU coach, Steve Ansell, echoed in the Sports Hall:
"You are better than this, you have got 14 minutes to prove it."
[/one_half_last]
In the last quarter, the visitors played an even more aggressive game, leaving the hosts increasingly frustrated. Hence, BU players started to exert undue effort, which didn't do them any good.
After a tightly fought match, Exeter found themselves ahead on points and maintained possession well during the final minutes of the match.