By Jim Gerrard
Hundreds of people flocked to the rather soggy village of Burley over the weekend for the 3rd annual Burley Steam and Vintage Vehicle Show.
Steam traction engines, tractors and other vintage vehicles travelled from as far as West Sussex and Devon to show off their machines in Burley Park, adjacent to the historic Burley Manor.
David Froud, 23 from Bournemouth, has exhibited his miniature traction engine 'Mary Eileen' at Burley for the last three years. He told the Breaker: "It was once again a very enjoyable weekend with lots to do and see, but a bit wet. It was a shame about the mud which stopped play on Sunday.
My personal highlight of the weekend was admiring the 1920 showmen's engine 'Lady Olivia' generating outside the music tent on Saturday night."
Live music and cider
Although rather wet under foot, Saturday proved the most popular day with plenty of young music acts and bands entertaining visitors well into the evening. Whilst enjoying the music, a pint of cider could be relished with a choice of sweet, medium and dry ciders available as well as some more seasonal mulled cider. These were all produced in nearby Hordle by show organiser, Jon Narey, who sells his drinks under My'n'ers Cider.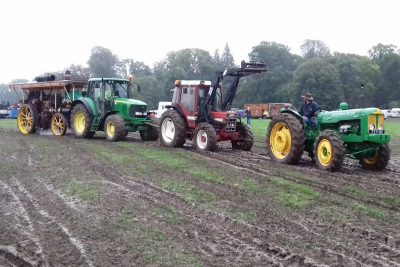 Muddy conditions
Sunday was more problematic with heavy rain making ground conditions very difficult for the paying public as well as exhibitors exiting the site later in the day. The cameras came out when three tractors were called upon to help pull a nine ton steam engine out of the mud and onto the hard standing road.
The show has raised thousands since it began in 2015 and has been a great end of season crowd puller to the village's park, which is well known for its deer safaris.