Proposed plans for an offshore wind energy park along the Dorset coast have raised concerns over the possible onshore impact of the development.
The Navitus Bay Wind Park will, at its closest to the shore, be around eight miles from Swanage, but will require large cables running inland from the park to connect it to the national grid along with a new electricity substation.
Eneco, the company behind the plans, has been carrying out exploratory drilling at Chewton Bunny in Highcliffe to explore potential routes for the cables, but a final decision has not yet been made.
Angela Pooley, head of the East Dorset Friends of the Earth, said they approved of the project "in principle" but voiced concern over the possible cable routes. She said: "the thing we are most concerned about is that the cliffs along Bournemouth are quite frail."
Despite the potential onshore environmental impact Ms Pooley expressed that the end result would be worth it if the project was undertaken responsibly. She said "There is a price to pay in all these sort of things and it's making sure that all the necessary measures are taken to minimize the environmental impact."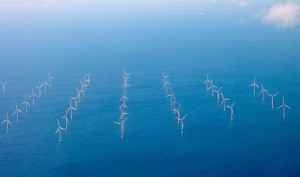 A report published last October by Eneco stated that some development would need to take place in the New Forest National Park and a significant amount would take place in The Green Belt. The report also said the development could have some impact on agricultural activity in the area.
Public consultations on the project are due to take place later this year, anda statement on the Navitus Bay Windpark's website states that Eneco "recognises that while renewable energy projects deliver significant environmental benefits in the form of low carbon electricity they can, if poorly designed or badly sited, give rise to adverse impact," and that they will work with the public in the consultations to minimise this.
Do you feel that the off shore wind farms will benefit the community?
Leave your comments