The first cocktail competition in a new Bournemouth league started with a splash this week, hoping to give a lift to bartenders in tough economic times.
With the closures of local nightspots Chili White and Bliss, Salvatore Damiano, chair of the Bournemouth Bartenders Association, hopes events like this will help boost the local industry.
Held at trendy cocktail bar and whisky lounge, Smokin' Aces, in Bournemouth the competition invited the best young bartenders in the area to show off their skills.
Mr Damiano, who is also bar manager at the exclusive Captains Club in Christchurch, said that their goal is to create a family of bartenders and to raise standards across the board.
[one_half]
[/one_half] [one_half_last]
"The economic situation is what it is, it is tough, we want to cheer up, to lift morale." said Mr Damiano, "Nowadays we have an educated customer so we need an even more educated barman!"
"The goal is to bring bartenders together to form friendly competition between each other and that promotes knowledge." said JJ Adams, owner of Smokin' Aces.
[/one_half_last]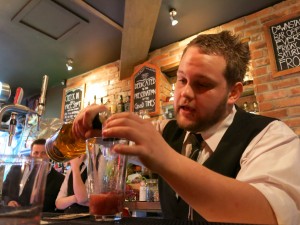 The day's event was sponsored by Monkey Shoulder whisky and representative Dean Callan was judging. He praised the quality of the cocktails made saying he was "shocked and delighted."
Mr Callan said, "the industry comes together in cocktail competitions, guys help each other out and give each other tips. This competition was the embodiment of an industry coming together."
Mr Damiano added that it was an opportunity for unemployed bartenders to display their skill and attract the attention of bar owners.
You can see Max Read explaining his winning cocktail – and the song that sealed the deal – here.
Main image credit: Tom Dale