With summer just around the corner, and the weather getting hotter and drier, most of us will soon be relaxing down by the beach. But what we can't forget is the risk around us of forest fires, that have been well known to cause devastation in Dorset.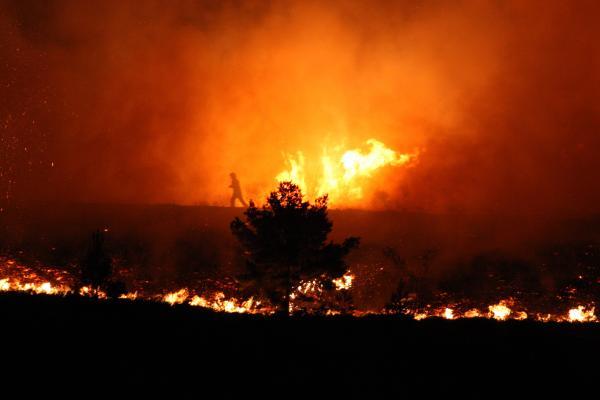 Over the years, Canford Heath has been known to have had forest fires every year, with other more common ones being Turbary Common and Upton Heath.
I spoke to Jezz Martin, project officer at the environmental development team and the warden for Canford Heath to find out more about what's involved in the aftermath of forest fires.
"The aftermath of a fire is one that takes alot of work. Site staff have to check that any grazing livestock were safe from the fire and to check that any fences keeping the animals on site are secure, and if not get them replaced. At times these fires can expose areas where people have dumped rubbish in the past, but had been hidden by vegetation so we would need to remove this.
"We would be looking for any reptiles that may have survived the fire but could now lack cover, and if any are found we would move them to an area on the site that is still vegetated. We would also be counting any dead reptiles that we would find and how many birds' nests have been destroyed by the fire."
Surprisingly, Dorset is home to some nationally rare reptiles and if these fires are large enough it can have a massive effect on the national population of these animals.
"The UK's sand lizards and smooth snake are found in Dorset's heaths and local heaths also have a large proportion of the UK's Dartford warbler."
A lot of people don't think of forest fires when the sun starts shining as we just want to enjoy the sun, but there is actually a lot more that people can do to help.
"If people know where the vehicle access gates are before any fire that helps and by being on the lookout for the start of fires, and calling the fire service as soon as a heath fire is seen with accurate information helps the fire service get to the area quickly. It also help if it's possible for people to meet the fire crews when they arrive to give more information.
"We set up 'Heathwatch' after the devastating fire on Upton Heath. It means that local people can find out more information about the heaths, such as the location of gates, information on how the site is managed and other issues, and contact details for the site. It's always important to gain more public interest so more people can help with heathland sites, especially in the aftermath of a forest fire"
To find out more about HeathWatch click here