The Hosts, an audio documentary produced by The Breaker, won the 2023 Community Radio Awards for News, Journalism & Factual Storytelling on 4 November. Aired on Hope FM on the first anniversary of the Russian invasion of Ukraine, the documentary weaves together a compelling narrative of five UK nationals who opened their doors to Ukrainians. Affiong Bassey, the presenter and lead reporter of The Hosts, tells the deeply personal story of what it was to work on the project, and what kept her going for a story that ended up taking 10 months.
---
So many thoughts crossed my mind as I sat nervously at Event Northumbria in Newcastle, listening to the Community Radio Awards being announced. I applauded as others bagged the gold and walked up to the stage, their anticipation replaced with elation. I celebrated those who had won the bronze and silver. I knew the effort they had put in to get here, the countless hours of hard work, the emotional rollercoasters, the not knowing if their work was good enough, if they could have done better, if they could have done things differently. A lot goes into a story.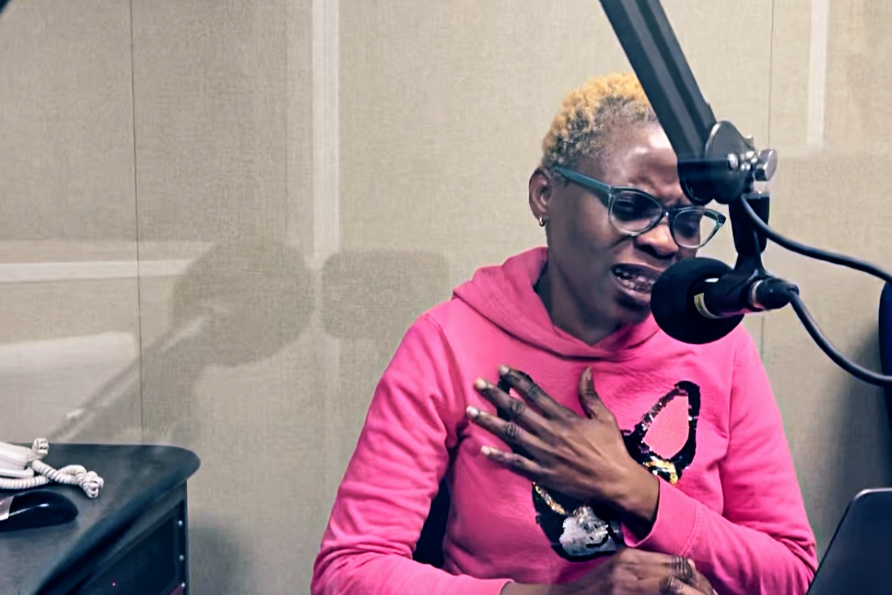 A lot had gone into The Hosts. I remembered the many doors we had knocked on, the doors that had opened, and the ones that hadn't. I remembered the pain of listening to the stories of people who had lost everything. I remembered the struggle with words, the scripting and re-scripting, the hours and days and weeks of voicing and re-voicing to capture the right emotions and do justice to the people whose stories we were telling. And the voice of Dr Chindu Sreedharan pushing us to do more. Some more. And then a little more.

Was that enough? I didn't know.

I didn't know that I would have this chance last year, when I first came to the UK, to Bournemouth University, from Nigeria. It was January 30. It marked the beginning of a new chapter in my life.
I had lost my husband 17 months earlier, and I came with heavy grief in my heart and two young daughters by my side. I had no idea what was ahead for us. No idea how the odyssey I had embarked on would work out, how I would navigate the delicate balance between being the sole parent to my precious daughters and being a student — while wrestling the tides of depression that threatened to engulf me.
Each day felt like a marathon, shuffling between being a devoted parent, a diligent student, and a compassionate support worker at night. I was also volunteering for Hope FM and Salvation Army at this point. Did I do these jobs perfectly? No. But I did my best.
I did my best! Over the course of my time at Bournemouth University, working on so many assignments, juggling so many things, I have come to realise that is what I can do. Do my best. That is all I can do.
When I lost my husband, I did the best I could for my daughters, and myself. I enrolled on a journalism programme. I had wanted to do that for very long, so that I could add a degree to the experience I had as a journalist in Nigeria. I came in search of another life, a better life than the one our grief had immersed us into. And over the last 18 months as a Breaker reporter and Hope FM presenter, I did my best to get the story — and get to the story.
Less than a year into my programme, I was lucky enough to win the Inspirational Journalist of the Year Award on MA Multimedia Journalism. If someone had told me something like that would happen when I left Nigeria, I wouldn't have believed it. But it gave me strength. It gave me the motivation to add one more project to my growing list of activities and take on The Hosts.
The Host was not intended to span 10 months. But it ended up taking that time. It took a lot to track down people who would speak to us on record, coaxing them to open up, and delving into their personal stories. We ended up witnessing their frustrations with the system, their fears, their elation as they saw their Ukrainian guests emerge from the chaos of war — and more. It was intense and emotional, for the hosts, the refugees, and us. All the while, the conflict between Russia and Ukraine raged on.
And we were doing this all between our studies and other responsibilities. For me, it meant juggling being a parent to two preteens, multiple part-time jobs, my studies, and squeezing in time for interviews. Finishing a long shift as a support worker, then rushing back to the university from some 32 miles away, to record and re-record. It wasn't easy.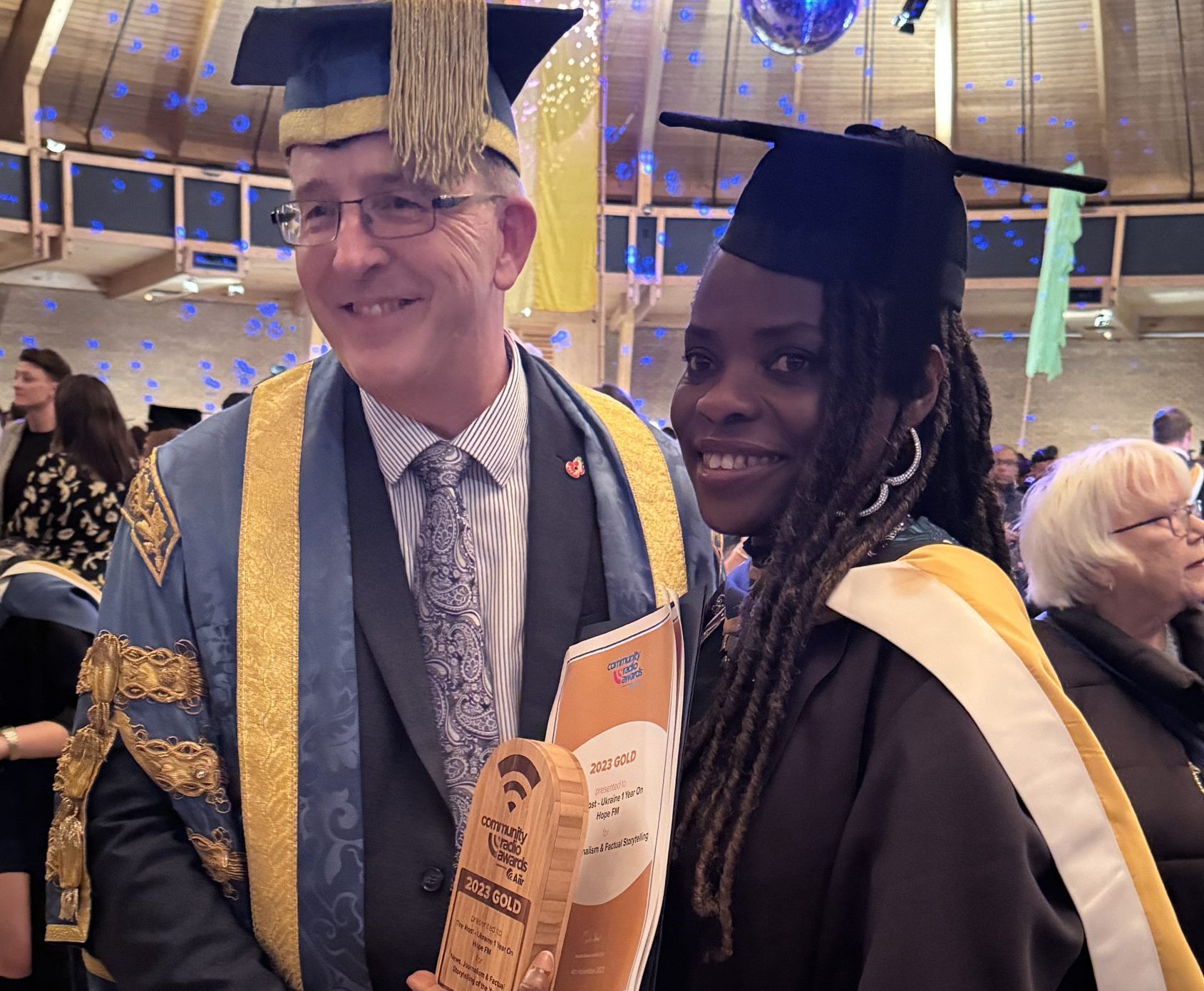 But the story I was telling was worth it. It was a story of loss and grief at its core. I knew both. It was a story of people who were trying to help those who had lost everything. Like the people who had helped me. It was a story that deserved to be told well.
What kept me going was also fear. I was afraid of not doing my best and being overwhelmed by grief. I was afraid of not succeeding as a journalist in a new country, of dealing with a new culture and struggling to get a break as an outsider despite the many talks on diversity. And I was afraid I would have to start all over again. When my husband passed away, my constant worry was, What if something happened to me? What would become of my children? I did not want to let down my daughters. They had come to love their new home. The thought of uprooting them anew was a powerful motivator.
What does the award mean to me? More than I can express. It represents a triumph over the emotional storms that raged within me. I didn't drown. I won. My older daughter tells me, 'Mommy, I am proud of you. I want to be like you.' What more does a parent want? The award fills me with a deep sense of responsibility. It is not just a recognition, but an inspiration, a call to action that propels me to tell the stories that must be told. It gives me the courage to tell the stories that I am passionate about.
This story is not my own. I owe a debt of gratitude to the Breaker team: Charlotte Albutt; Aman Singh Gandhi and Delya Apsari; and our editorial mentors and executive producers, Jason Hallett and Dr Chindu. And I am grateful — profoundly grateful — to Hope FM for giving us a platform.
But more than any of us, this story belongs to the people who became the beating hearts of The Hosts. The Ukrainians who spoke to us what it is to flee their homeland, the hosts who opened their homes and shared their experiences, and the experts who helped us make sense of what was happening. I am glad I got a chance to tell their story. I did what I could to tell it well.
I did my best.
Visit The Host web site