The National Landlords Association has said it will cooperate fully with the Council in its plans to improve standards of housing in Boscombe.
Earlier this month, the council called on local landlords to help them improve standards in the area, after an assessment found that it is one of the most deprived parts of Bournemouth.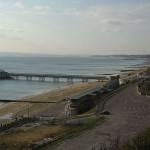 They have said they want local landlords to help them identify properties that need improving. They also said they want to help tenants by providing them with guidance and advice if they think their property is not up to scratch.
The National Landlord Association's Dorset representative Steve Bartlett says that they intend to work hand in hand with the Council on this initiative: "We're committed to providing good quality accommodation, good quality standards and good quality landlords in the area.
"We want to do everything to make sure that standards of accommodation are as high as they can be. So we will be cooperating fully with the Council on these plans."
On the scheme, Boscombe Councillor Jane Kelly says: "This is about maintaining standards.There's a standard of housing that we want Bournemouth to have, and so we're working on making it so Boscombe reaches this standard."
Related Sites
National Landlords Association