When someone mentions beauty pageants, it conjures up pictures of bikini-clad models or even the Hollywood mockumentary "Drop Dead Gorgeous", in which American teens try to strike out the competition in their small-town contest – a bygone era.
But, a former Miss England competitor says they're going stronger than ever.
Angie Beasley competed in Miss England events between 1981 and 1987 and has been organising the competition for 30 years.
The Miss England beauty pageant was last televised in the 1980's.
Since then, pageants in England have undergone a massive overhaul.
Changing the culture
"Miss World and Miss UK used to be as big as the X factor. It used to be a big family affair. The whole family would sit down and watch it and say who they liked, who they wanted to win and who was the prettiest." Ms Beasley says.
"I mean, it was very much swimwear orientated, even Miss England and Miss UK. It was all about looking good in a swimsuit, it was all about appearance.
"Years ago it was like a cattle market."
She described that when she competed, contestants' measurements would be read out while they walked down the catwalk in swimwear and high heels.
"It was about who had the best body and had something nice to say."
However, in 2009 Lance Corporal Katrina Hodge became Miss England. Her and Ms Beasley made the decision to ban the swimwear parade part of the contest.
There is still a swimwear round but it's changed. The catwalk and measurements have been taken out of the equation and women now go on a photoshoot instead.
Miss England in today's day and age
"It's had to change because it couldn't stay as it was, just about looking pretty" says Angie.
"Now, you've got to be so much more than a pretty face"
She says that the competition is much more about being a positive role model for young people.
Samantha Bumford was crowned 'Miss Dorset' on 12th March 2017. She says that the children she teaches love it.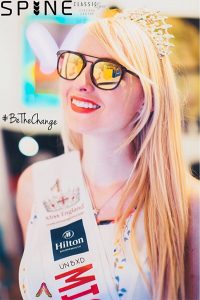 She's a teacher and balances her job and title alongside her honours degree, which she completes in just over a week. She was also made the southern ambassador for Help for Homeless Veterans. Samantha is one of hundreds competing in the Miss England 2018 contest, all of whom have impressive accomplishments themselves.
"The idea of the title is that you're not only a role model, but you're that person that people can come to. You've got to think on your own feet, who can I help?" she says.
Ms Beasley says: "[People] are always surprised to hear what the winners actually do and what they've achieved academically, or what they've achieved in their lives."
She'll be competing at Kelham Hall on July 3 and she hopes to win the Miss England 2018 title.