Police have released an e-fit image of a man they believe is responsible for a number of burglaries in the Poole area.
At 9.30am on Thursday 16 February a man knocked on the door of a property along Richmond Road in Parkstone and stated that his car had broken down.
He was allowed to use a phone book inside the location and was left unattended by the victim. It was later discovered that money was missing from a handbag.
Fifteen minutes later a further report was received that a man had approached a householder along Birds Hill Road in Poole and asked for the telephone number of the AA, saying that his car had broken down. The occupant did not let the man in, and he then left.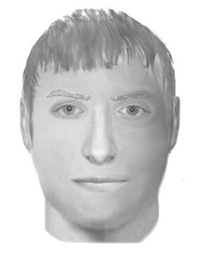 During the same morning at around 10am a third incident occurred, in which a man called at a property along Longfleet Road and also told the occupants that his car had broken down. He was allowed inside and was left alone for a short while.
After the man had left, the elderly couple realised that money had been taken from a purse.
Detective Sergeant Mark Fossey, of Poole and Bournemouth CID, said: "Following enquiries, I believe that these incidents may be linked to an earlier burglary which happened at around 1.30pm on Sunday 15 January 2012. A man had entered a house along Clifton Road and asked for financial help. He then made off with some cash.
"We have already released an e-fit of the man we believe is responsible for this offence. I am re-issuing this e-fit as there is evidence that the same man may be responsible for these further incidents.
"I would urge anyone who recognises this man to contact me as soon as possible."
This man is white, with pale skin, in his late thirties or early forties, around five feet seven inches tall and of a full build. He has a thin nose and thinning light auburn hair which is falling forward.
DS Fossey continued: "I want people to be aware of the method being used to gain entry to these properties and for householders to be vigilant.
"I would urge members of the public to keep a look-out for the vulnerable members of their community and to report any suspicious activity to Dorset Police."
Anyone who witnessed this incident, or anyone who has any information that may assist the investigation, should contact Dorset Police on 101 quoting incident 16:118 or on their website, or Crime stoppers, in confidence, on 0800 555 111.
Related articles
Related Links