Poole will be is on its way to get its fifth new cemetery, within a year.
The Council has allocated a new site for the cemetery at Magna Road, which will replace the existing two over-burdened cemeteries in Parkstone and Broadstone. The 10.6 acre site at Magna Road is currently an open grassland and a part of it will be developed for use as a cemetery in the coming months. The remaining land will be developed at a later date.
Poole is currently facing a "pressing need" for burial sites as there is a severe shortage of land in the existing sites. At present, Poole conducts 80 burials a year and at the current rate, the cemeteries will run out of space within the year. Also the cemeteries are being used for burying ash remains from crematoriums in Poole.
The Council recently re-opened two closed cemeteries, Branksome and Poole Cemetery, to tide over the space crunch. "We had to landscape some places to make room for new burials. But we cannot accommodate new requests for long since we will soon run out of space," said Clive Smith, Head of Leisure Services, which is preparing a study on the design for the new cemetery.
The Poole and Branksome cemeteries will not be operational once the new site becomes active.
Since the site is on an environmentally sensitive area, the cemetery will be better planned and have lots of tree plantations to make up the green cover. Mr Smith added: "Since most of our existing cemeteries were within the town, there was no room for them to expand. This new site is on the outskirts and will have more room for planning and it will more natural rather than having concrete structures."
Clive Smith, Head of Leisure Services, Poole, explains why Poole needs a new cemetery:
The benefit to residents is that they can now get pre-purchased plots of land for burying their loved ones. The current space crunch at the cemeteries did not allow that.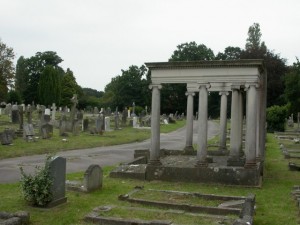 Since the plot of land is jointly owned by the Bournemouth and Poole Councils, the cemetery will be on a 15-year lease to the Poole Council and after that it will be jointly used with Bournemouth. "Since we have a pressing need for a burial site, we have the advantage of first use for the site. Bournemouth will run out of burial space at their cemeteries after 15 years," added Mr Smith.
Though there are issues about sharing of profits from the new cemetery between the two councils, which still need to be worked out.