Roundabout, a pop up theatre by the lake in Poole this week is to bring an exciting range of comedy and performance to local audiences.
This 100-square-yard tent theatre that pops up overnight can contain up to 167 people. Seven technicians spent one day to set it up, transported as individual pieces by lorry.
"With the outside dome, exterior and environmental sounds are dampened" says Colin Everitt, technical director of the theatre. "And within the inner dome is the state-of-the-art LED (light-emitting diode)."
Terrain mat is spread over the ground to prevent the weight from pushing into the grass of the plaines. Six water filled IBCs (Intermediate Bulk Containers) keep the tent down and firm.
"The grass goes a little off colour, but it doesn't die" says Colin.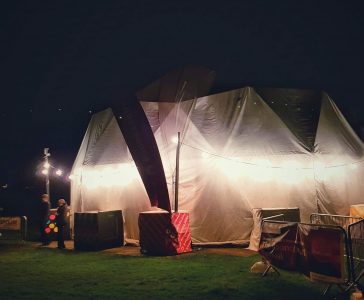 Utilities of water, electricity and restaurants, alongside with Poole Park's lawn makes the festival happen. Stephen Wrentmore, artistic producer of the festival said the best thing is the completely different theatre experience.
"Nowadays people are visiting huge theatre buildings. We try to create a sense that you don't have to deal with a whole building" Stephen says. "The theatre is of no fixed place and catches people by surprise."
Three shows will go on ten times over four days and Sunday will see an exciting range of specially programmed children's comedy as well as locally created performances and workshops.
Estelle Tan, 21, who majors in scriptwriting, bought ticket for a thriller in the festival. "It would be unusual and exciting to sit next to a lake watching a psychology thriller."
The four-day festival is apart of the theatre's 2016 autumn national tour, during which it has popped up many times across the country, from Scotland to Manchester, Newcastle and now in Poole. This has been its second year in Poole Park since they first started to tour nationwide in 2014.
"A quarter-million investment at the beginning means that the theatre would go to all areas of the country in the next five to six years" says Stephen.