Fifty Winton locals decided to take matters into their own hands this week to combat the issue of litter on the high street.
Business owners are concerned about losing customers to other areas or online retailers and feel that having a tidy neighbourhood  can go a long way to help revive the high street.
Decline of the high street
Carly Webster of Webster Family Butchers said: "I think we've got a long way to go, but more people are coming back wanting to shop in the high street. We've got some fantastic independent retailers here, stuff that you can't necessarily get on amazon. That's what we want to do, because the high street will die. If you don't shop here, we won't be here."
The Centre for Retail Research suggests that at the current rate of decline, only 220,000 high street shops will remain in the UK by 2020 compared with 290,000 in 2012.  A drop of 24%. Giving our local retailers even more reason to do all they can to keep people shopping on the high street.
What are the council doing to help?
Roger Smith of W Smith & Sons Funeral Directors and President of Bournemouth Chamber of Trade and Commerce was out on the day and said: "I think the problem is, as everybody knows, the council are stretched with their budgets and different things. They do the necessary clean-ups, but they can't afford somebody permanently just picking up the cigarette butts."
With council's resources being stretched, residents feel that another way around the issue is to get out in communities and take pride in making areas a more enjoyable place for everyone.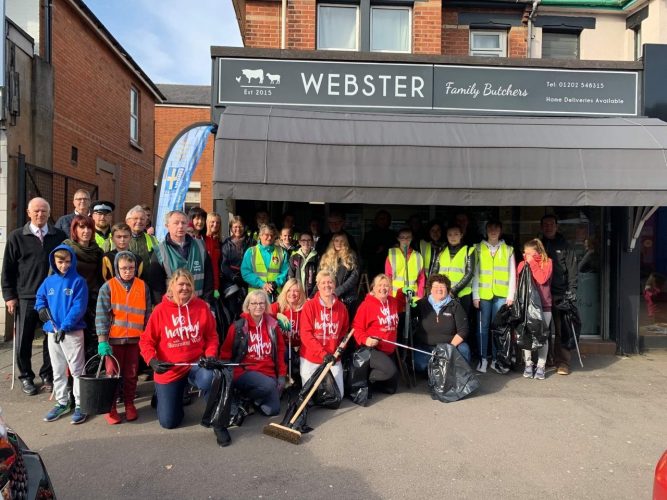 Sue Anthony from slimming world said, "We're just all doing our bit for the community and making sure that the place is a bit cleaner and pleasant for people in the community to be around."
There are more plans for keeping Winton tidy. Kane Webster from Webster Family Butchers said: "We're going to try and do this on a monthly basis and get people involved. Especially during half terms, and get kids involved. Get them educated on cleanliness, and taking care of your high street, environmental issues, stuff like that."