Rachel Simons began donating handmade scarves to Falklands veterans in 2017. Now, her Facebook group has spread 'over the world'. 
In 2017, Rachel began making scarves for the Falklands veterans. She made them for friends to start with but soon enough, a waiting list formed and friends began to help her crochet these scarves. During the pandemic, Rachel created a Facebook page, in order to 'manage' the donations of scarves. The number of volunteers increased and wool even started to be donated.
"I knew there and then, that this was something special."
Nowadays, Rachel lives in England. However, in 1982, she spent her 11th birthday under Argentine occupation in the Falklands. Rachel felt 'joy and gratitude' on the 14th of June, 1982. The day the British declared victory.
She says that the feeling of gratitude 'never left' her.
The Facebook group is 'on the brink of member 4,000'. Around '100' are volunteers creating items with veterans receiving no less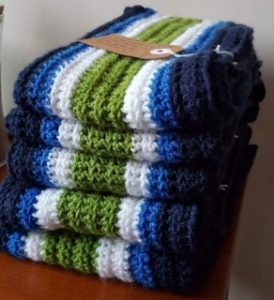 than '1,500' scarves. Additionally, car scarves, beanies, penguins, hip-flasks, and more are available. All are made using wool; featuring green, white, and blue colours to match the South Atlantic Medal ribbon.
Rachel says the 'decentralised' nature of donating allowed the group to grow 'all over the world'. Volunteers donate from the Falklands, Germany, France, Australia, Canada, and the UK; as well as elsewhere. Volunteers crochet in their own time, posting the items on the page themselves. Veterans can secure scarves by listing themselves, or other veterans. Thanks to donations, there is 'always' wool available for the band of volunteers.
"It's an outpouring of kindness and loveliness unto our veterans," said Rachael.
The group only requests postage be covered, and a small donation to charity to be made where possible. According to Rachel, veterans even pay to cover the postage for others. The group collaborates with the Falklands Veteran's Foundation. Rachel says the Facebook group has 'raised thousands' for the aforesaid charity.
Tracy Slater:
"This time of year we're in the middle of when the war was. There's nothing on tv about it. From what I've heard from [veterans], it helps them to realise that people do care"
Tracy is a recent addition to the team and a fine example of the 100-strong group. Since joining, she has raised £170 for the Falkland Veterans Foundation as a result of her sewing five scarves, 15 car scarves, seven teddy keyrings, and six teddy bears. Rachel herself is ex-Navy.
Anthony 'Tony' Cummings:
"The Pride & Honour to wear these items in the colour of the Medal Ribbon is fantastic and it fills you with so much respect. It's also a way of remembering, and never forgetting those fellow service personnel who sadly lost their lives"
In particular, Tony says the group has 'brought' veterans back together again. He says 'being in touch with fellow shipmates', with who he had lost contact over the years, was 'very special.'
"What Rachel Simons started is an amazing group of veterans coming together"
Dave 'Dick' Clark:
 "There's a big smile every time there's s draw, knowing others will have that same feeling."
Primarily, Dave enjoys the 'banter' of being in the group. He says receiving his scarf brought tears that 'were stuck inside for so long', whilst praising volunteers and a 'lovely' Rachel Simons.
David Bragg:
After getting his scarf he helped his wife, and a few of their friends in Sheffield set up a volunteer network. He says the friends in Sheffield don't have Facebook so he picks up the items and donates on their behalf. David once helped get a scarf to a family of a veteran Warrant-officer who passed away.
'The families are not forgotten, as well as the veterans it's the families they left behind – you've got to think of them as well.'
He still has ties with the Falklands, through friends. While his daughter is deployed on her second tour there.
Lorrin Evans:
"I hear a lot of  veterans felt that they'd been forgotten about. The scarves have made them realise that a lot of people appreciate what they did"
Lorrin received his medal while deployed at sea. So, getting his scarf was very 'uplifting'. After getting his scarf, he asked Rachel if he could help at all. Ricky has since helped set up a group of 20 sewers in the UK. Additionally, with fellow HMS Glasgow veteran Dave Perry, he set up a network of '11' volunteers in Australia and New Zealand. He accredits these networks, in part, to the charitability of HMS Glasgow veterans. Lorrin told me a story about a veteran who recently got a scarf. The veteran, who still suffered from PTSD, said the scarf gave him a 'license to open up.'
Ricky Strange:
"I know how much work goes into these gifts and how much love is put into this."
Ricky 'was like a kid at X-mas' waiting for his scarf to arrive, adding that it 'felt right' wearing it. He also says Rachel had managed to source wool from the Falklands for the scarf. The idea that the wool came from 'the land he fought in' was appealing to him. Despite its sentimental value, he gifted his original scarf to a fellow veteran. Yet another example of the kindness a spirit present amongst this group.
Stuart Pennock:
Stuart says this group 'fills a gap' many Falklands veterans didn't know was there. For him, it was 'hard to put into words,' how important the group is, adding that he has formed bonds with veterans he didn't know before. Stuart assisted the group by helping to secure a better price for Wool whilst also bidding on behalf of other veterans.
"Nothing has come anywhere near touching this event, which is so organic. In many ways it had to be like this, no one organization can do this."
The Falklands conflict occurred between April 2nd and June 14th, 1982. A capitulation of tensions between Britain and Argentina, over the sovereignty of the South Atlantic Islands. Britain and the Falklands had 255 and 3 casualties, respectively. Argentina lost 650 lives.