Working with Images
Jump to: Copyright Free Images | Resizing Images | Uploading Images | Featured Images | Slideshows
Copyright Free images
---
Whenever possible, it's always good practice to take your own photos for an article, this way you avoid any potential issues that could arise with copyright. Whenever you go reporting or go to conduct an interview always try to ensure you have a camera (or in worse case scenario a phone with a camera) available. Alternatively, if you have shot video for the piece, why not export a selection of images from the video.
However, there will be plenty of cases where you need to find images, from an external source, to use in your Post – if this is the case, how do you make sure you are free to use these images? Just because an image is online, it doesn't mean it is ok to use it.
Copyright Free Images: Wikimedia Commons
---
Wikimedia Commons is a media file repository making available public domain and freely-licensed educational media content (images, sound and video clips) to everyone.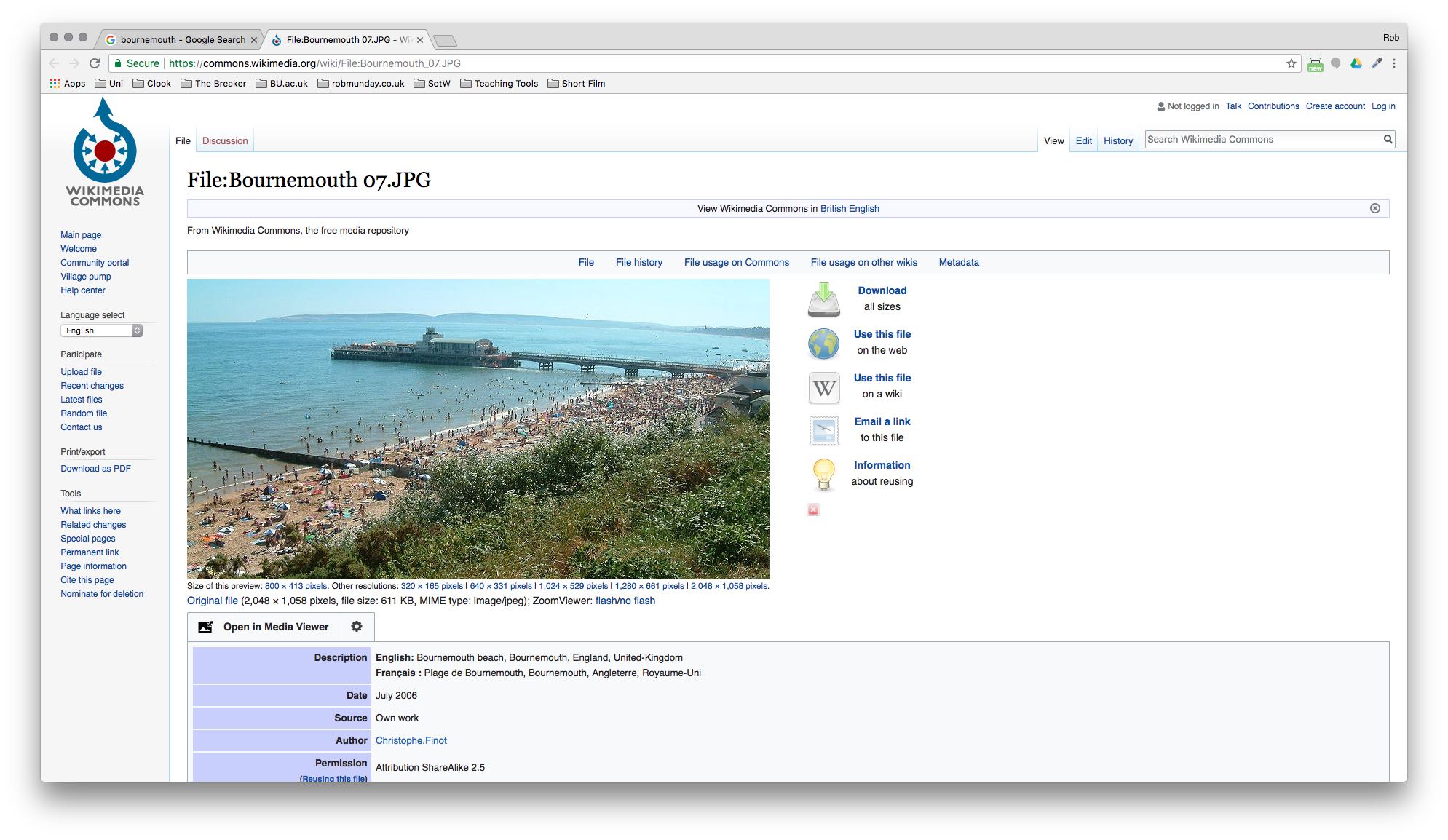 To use Wikimedia Commons search the site by using search bar in the top right corner of the site.
From the results, pick an image you would like to use in your article and click on it.
On the new overlay window that opens, click on the 'More Details' button.
Click on the 'Download all sizes' button to find attribution details and save the image.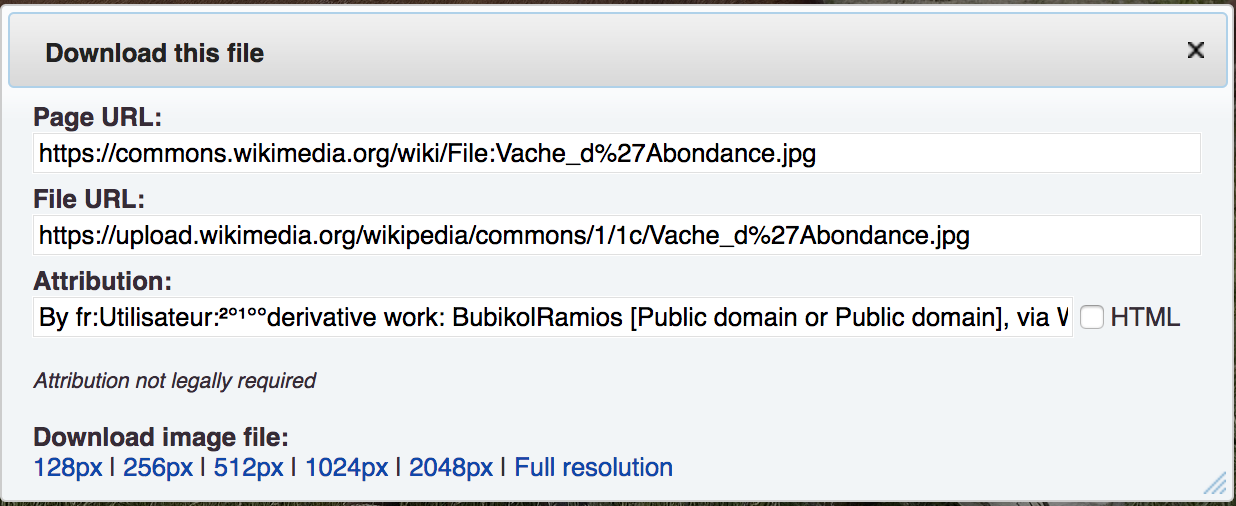 Copy the text contained in the 'Attribution' field, ensuring you click on the 'HTML' checkbox first.
Click on one of the image sizes (remember you shouldn't need an image larger than 2000px) and then right click on the image to save it to a destination of your choice (when saving the image try to give it a name that corresponds to the content).
More Copyright Free Image Sites: unsplash.com / pexels.com
Copyright Free Images: Attribution
Whichever site you source copyright free images from, you need to make sure you credit the original author appropriately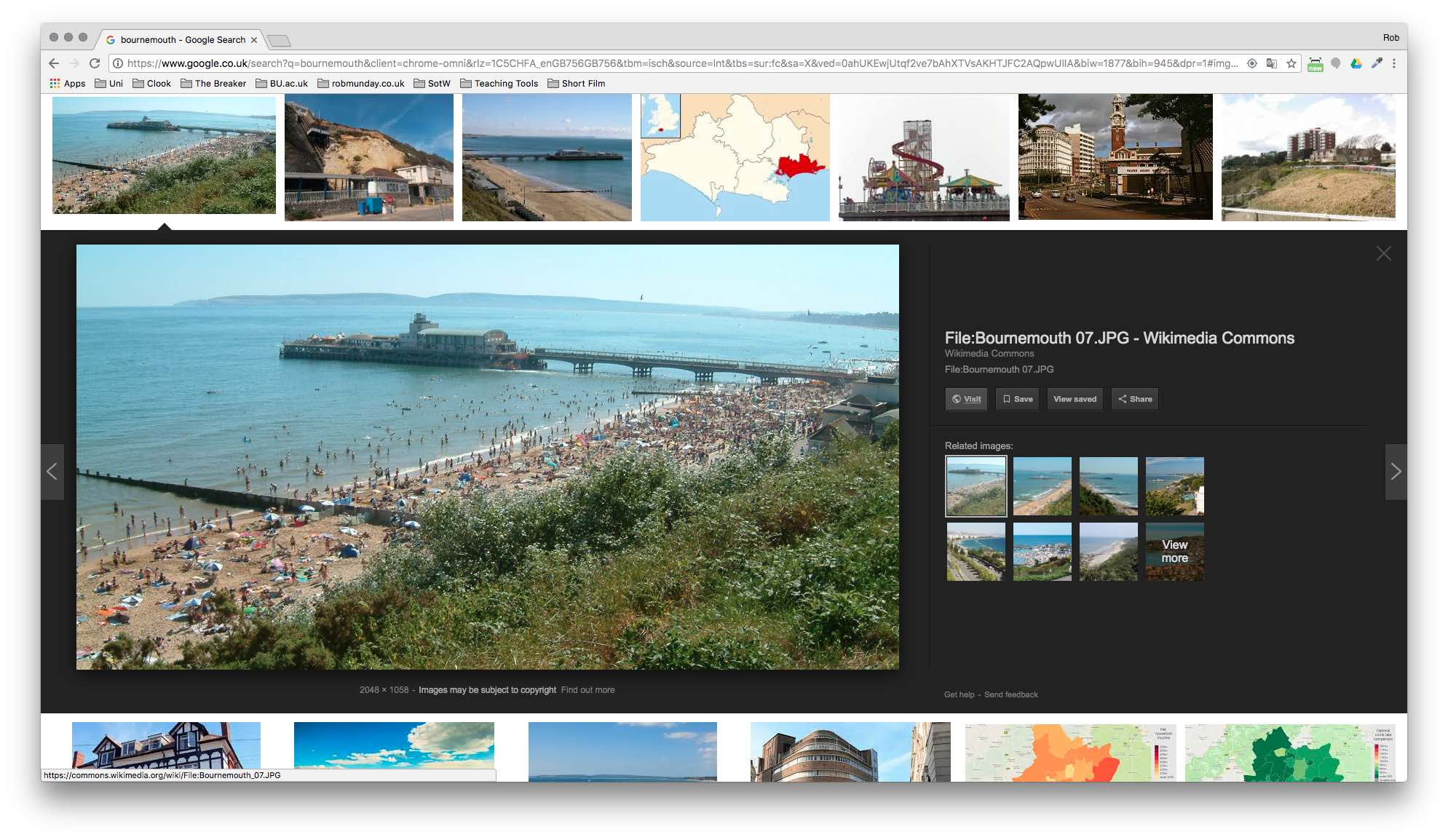 To find the appropriate credit for the image you want to use, in the Google search results click on the Visit button and go to the website where the image is hosted.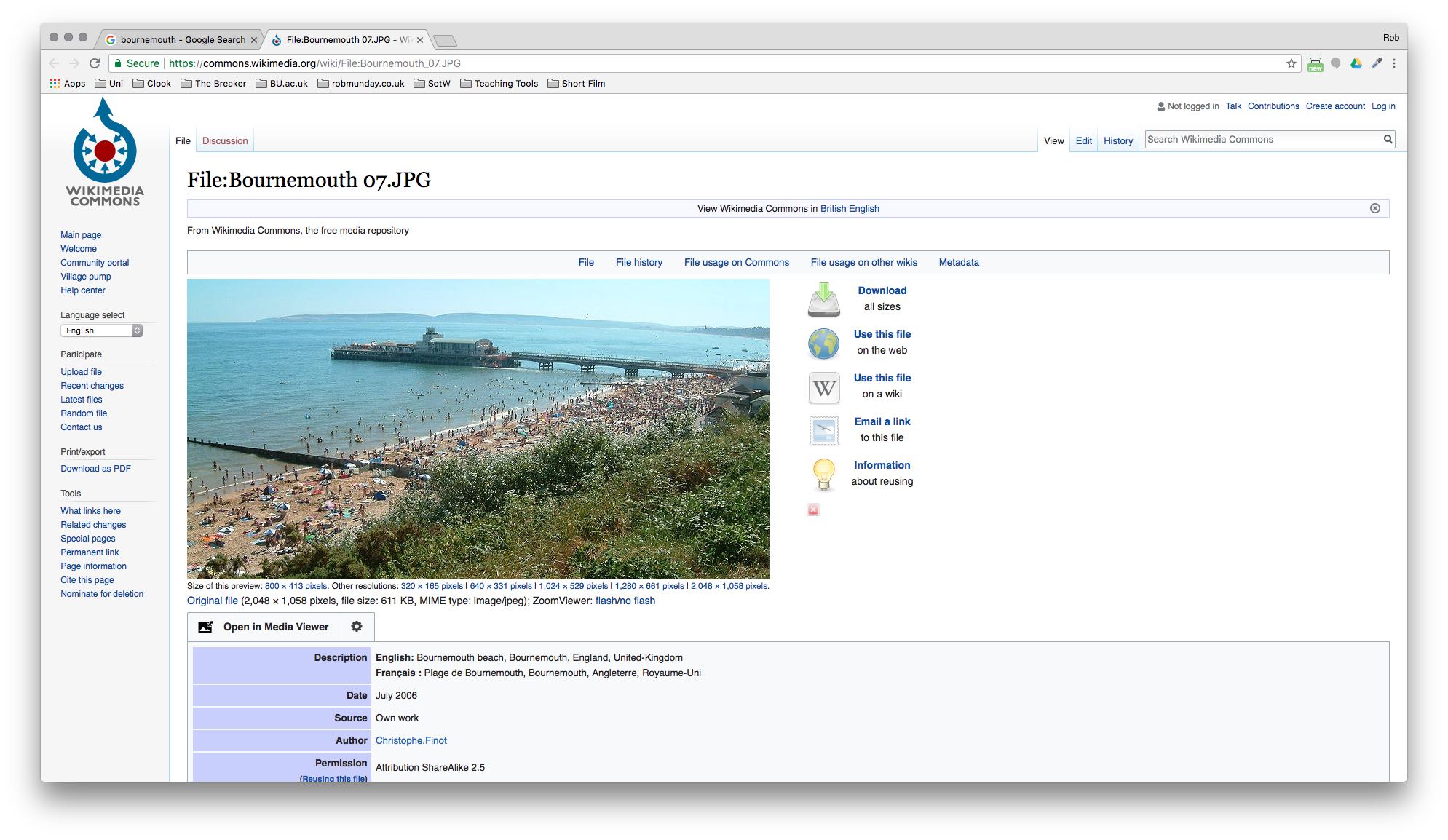 Some websites like Wikimedia will make it really easy for you find attribution.
To find an image credit on Wikimedia click on the 'Use the File on the Web' button.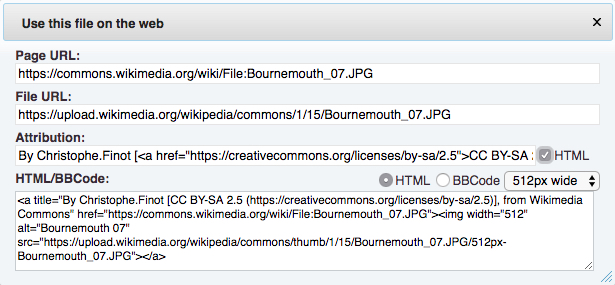 In the new dialogue window that appears, copy the text from the Attribution field – clicking on the HTML checkbox to make links in the credit are clickable.
Other copyright free images, like this one on Pexels, state No attribution needed – so you can legally use it without crediting the original author. However as your work will be published for an academic assignment, please still provide credit by referencing the original author of the picture and the website you got it from.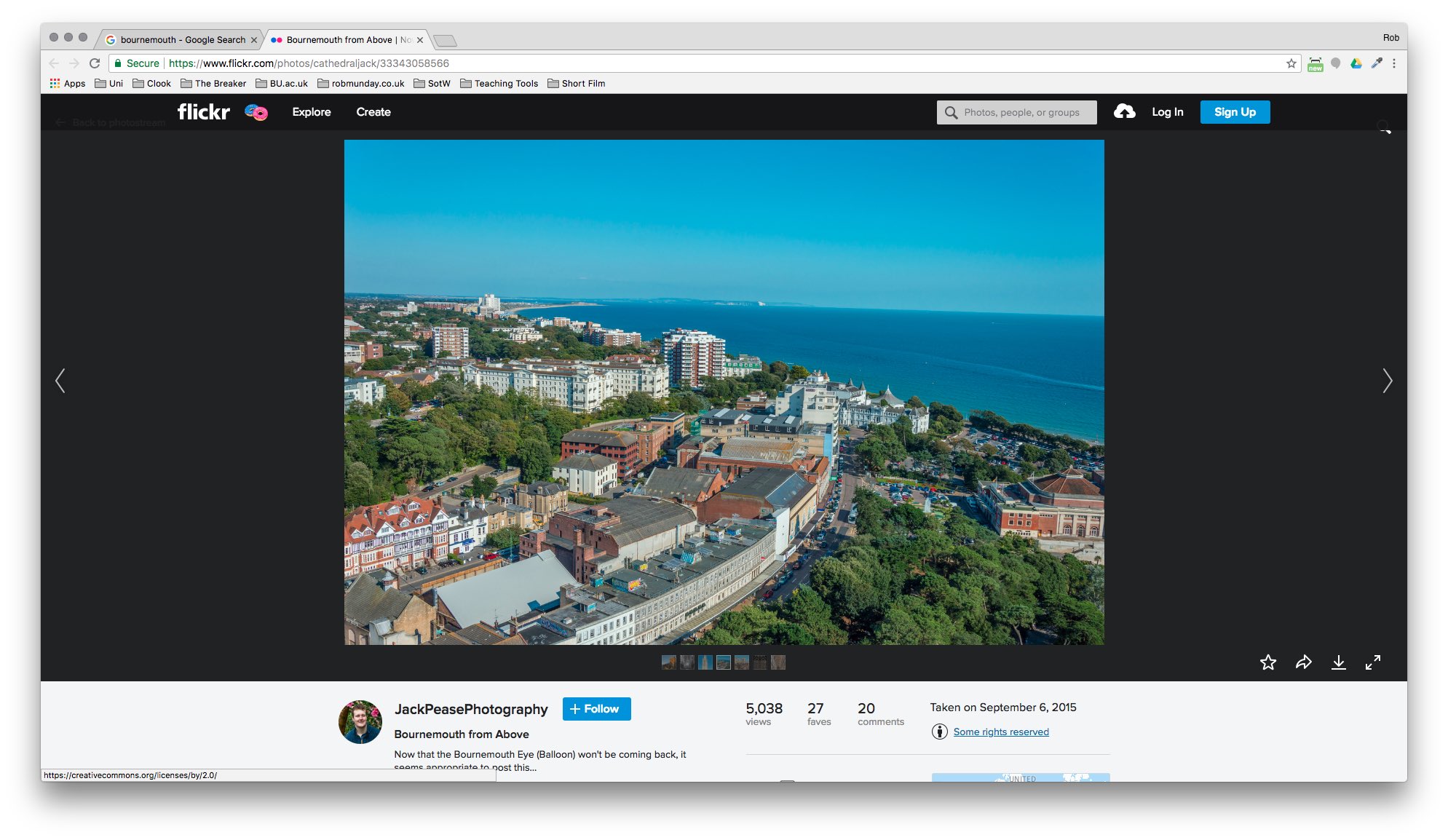 On some websites the image credit isn't as easy to find. On this image on Flickr it has been uploaded with a license allowing you to use it, but you can only see that information by clicking on the 'some rights reserved' link.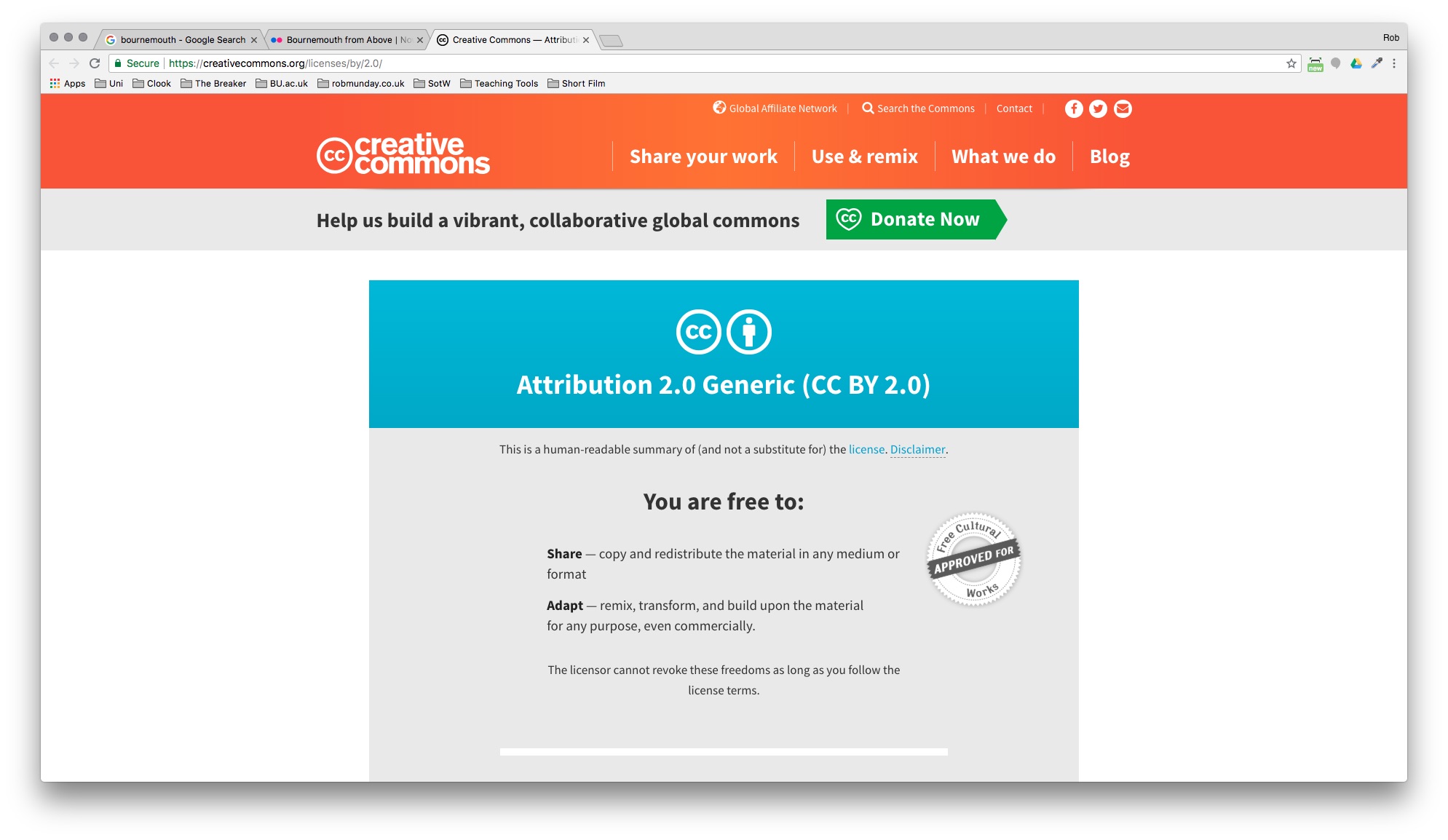 Clicking on the 'some rights reserved' link takes you to a page explaining the license (Creative Commons) of the image, but no text you can copy for a credit.
To add an acceptable credit for a Creative Commons license, copy the code here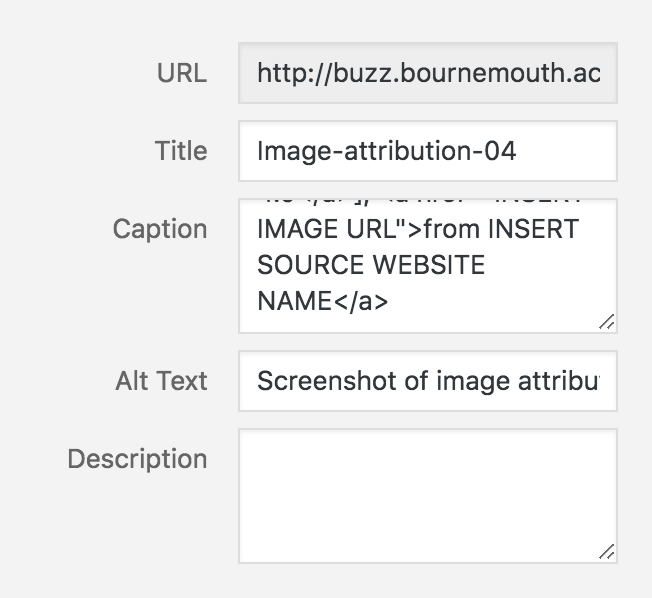 All image attribution should be pasted into the 'Caption' field when uploading images.
If it is a Featured image (see below) then the image attribution should also be pasted into caption and should display under the image within the article
Copyright Free Images: Attribution Examples
---
Wikimedia Commons
Pixabay (or other sites that say No Attribution Required)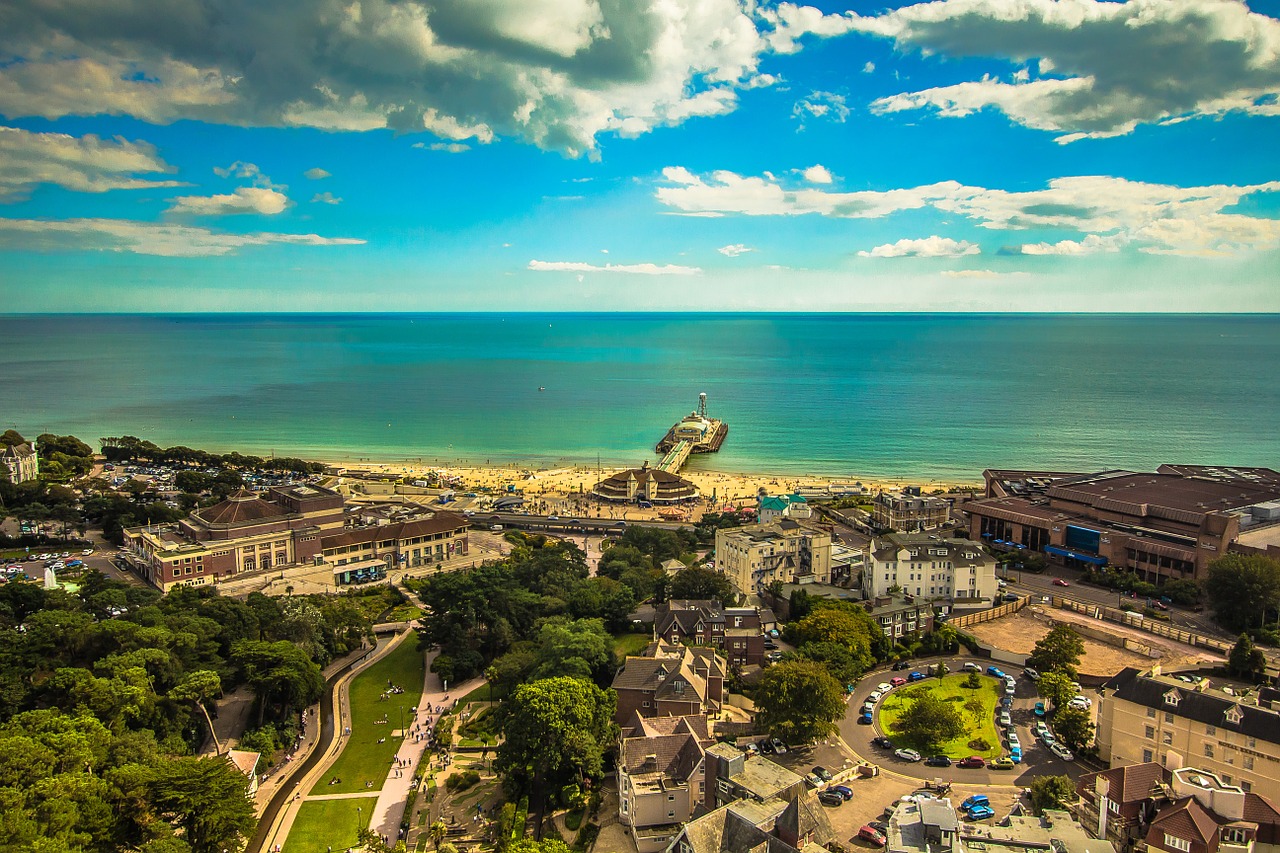 Flickr (or other sites that say refer you to the Creative Commons license)
Resizing in Photoshop
---
There are many methods and tools you can use for resizing images for the web and whether you use an online tool such as Cropp.me or photo-editing software like Photoshop and Preview the output should be the same – an image that is reduced in pixel size and compressed to a file size suitable for online viewing. This guide to resizing images will show you the simplest way to prepare images for the web using Photoshop.
Please note: This method is different from the one used for resizing images for print.
Cropping in Photoshop
There are times when just resizing your image might not give you the results you desire – e.g. if you have a large portrait image and you want it to be landscape. In some situations you're going to need to think about cropping a picture.
Cropping is the removal of unwanted outer areas from a photographic or illustrated image. The process usually consists of the removal of some of the peripheral areas of an image to remove extraneous trash from the picture, to improve its framing, to change the aspect ratio, or to accentuate or isolate the subject matter from its background. – Wikipedia
Uploading Images
---
Watch the Video
A video looking at uploading and inserting images into a news post (please note: although this tutorial doesn't feature the Breaker, the process is exactly the same)
Featured Image
---
Insert a Gallery
---