This morning, an Equestrian facility in Dorset announced new fears coming into this year.
Parley Equestrian Centre which is based in Christchurch, Dorset, is concerned over the new Brexit rules. On Wednesday 5th January, the horse stables confirmed they are still having ongoing problems. They are unable to order products for the horses, and importing and exporting horses from Europe is still proving difficult. 
The Centre is home to nearly 110 horses. There are a huge variety of disciplines that the horses compete in. Xana Linnett, one of the head grooms at Parley voices her concerns.
"The most worrying problem is a lot of the goods we buy for the horses come from overseas. In particular all the textiles such as rugs, clothing as well as the horses feeds."
"Many of these are made either in Europe or even further meaning they are very dependent on the tariffs coming in."
The new paperwork and taxes that have come with Brexit are very complicated for the equestrian business. The trading deal with the EU is causing big concerns. If the centre is unable to ship all their products, it will have a detrimental impact on the business.
Mae Jones, another worker at the stables voices how the changes have also caused problems with buying and selling horses.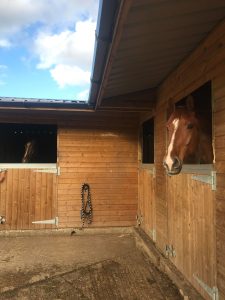 "The cost of importing a horse from across the border has nearly doubled, and this is one of our main sources of income."
Being one of the primary sources of income, not being able to import and export horses from Europe quickly has been another worrying factor for the equestrian business. 
This situation is becoming a recognised problem with equestrian business all over the UK. It's even been known for centres to be buying three – to four- months worth of extra stock. This is to prepare for any further disruptions. 
Mae Jones also added, "horses can also take up to nearly two months to arrive from overseas, which usually could have been done in a few days." 
What happens next?
Due to the continuing increase of prices for shipping, Parley is also having to charge their clients more livery beginning this year. This is also a potential threat to the business as owners cannot keep up with costs.
They are hoping the government will start to provide support for equestrian businesses this year, as the situation is not getting better.