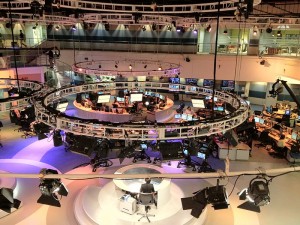 I think it is a fairly safe assumption that teenagers do not pay much attention to the news, 60% apparently aren't bothered in the in the US.  So, if a news channel is going to successfully reach teenagers simplicity is the key…along with keeping it interesting. This is not to assume teenagers are not intelligent, but looking at my own experience I quite often had to research things mentioned in the news to make sense of what I had been watching. Teenagers need to be able to quickly understand what they are watching otherwise they will lose interest and switch off.
The TV news programme will be called The Low Down. It will be half an hour and will broadcast one full edition a day, everyday, at 6 o clock, with bulletins on the hour. News featured on The Low Down will contain a range of news packages about the main headlines of the day, but will use language that is accessible to my target audience of 13-19 year olds.
The Low Down will cover a variety of news appropriate to the age group such as political, sport, entertainment, health and education. To make The Low Down stand out from news aimed at other demographics I will ensure that information included in the packages is relevant to the age range and emphasizes the effect that issues will have on them. For this channel to work and carve a niche for itself (its main competitor, BBC's Newsround claim their target audience is just 6-12 year olds) the news needs to be well and truly tailored to the needs of this demographic. There will also be a young celebrity presenter to add to the channels street cred and make it that bit 'cooler'.
Each full programme will be available after broadcast on-demand as more and more shows are now doing. The website will keep the three most recent episodes available to view, so if stories are developing quickly, previous bulletins will serve as a reminder of what has already happened. The website, thelowdown.co.uk, will carry all of the stories from the programme, but written up with more background information to help put issues into a wider context. Of course these stories will be littered with relevant hyperlinks to make further research on stories easier. Stories on the website will also include multimedia in the form of short audio and television packages to enhance understanding.
The website will also serve as a tool for engaging with the community allowing teenagers to have their own say about what is going on in the news through discussion pages and opinion polls that will be linked to social networking sites Facebook and Twitter. There will also be a 'test your knowledge' section on the website that will contain games and quizzes on recent news and timelines and fact sheets on ongoing issues, i.e. the eurozone crisis or election campaigns.
Teenagers don't always have their own TV but I'm pretty sure many will have their own smartphone, laptop or tablet device with Internet access. According to media watchdog Ofcom, half of teenagers now own a smart phone. I never watch the news at a scheduled time and Morgan Stanley (yes, the bank) tell me teenagers are watching less and less TV with the increase of on-demand services. I watch/read the news (using my smartphone of course) while I'm on the bus or queuing for a fitting room etc and I expect teenagers to be no different. The Internet is therefore of paramount importance to this venture and the programme will be made available for download as a podcast and as an app (both of which will be free). Even the UK's main TV news programme aimed at young people, Newsround, is suffering from falling audience figures so the website will play an essential part in keeping young people engaged.
The Low Down would be fortunate enough to have a staff of 10 multi-media journalists working across the TV news channel and online whose jobs would be outlined on the website, much to the effect of Sky News' virtual newsroom. Even as a budding young journalist I'm still unsure of what jobs are actually out there and what they entail so this will be a useful feature.
Firstly there would be the Managing Editor who will have final say on the website and TV channel and also be responsible for any legal issues. Then there is the News Editor who will be in charge of which stories are run. A multi-media editor will be in charge of audio and video on the site, making sure it is of a high standard and an interactive editor will have responsibility for boosting 'the brand' and driving traffic to the site and channel through social media, as apparently social networking is now the most popular activity to do online.
There will also be a TV producer making sure things run smoothly whilst on air, two sub editors making sure stories are written in clearly and concisely and three reporters, one for international issues, one for sports and entertainment and one for national stories.
What needs to be achieved here is presenting news in a way that teens can understand and actually want to engage with rather than avoid.
Image courtesy of Wittylama