Representatives from International organisation PETA have expressed concerns on fish farming and consuming seafood, alleging that fish farming is 'unethical and unsustainable'.
It comes after World Day for the End of Fishing took place at the weekend.
PETA, which stands for People for the Ethical Treatment of Animals, have said that fish, crustaceans and cephalopods are 'the heart of their concerns'.
Laura Brown and Lily Divett, volunteers for PETA, were handing out information to members of the public by Bournemouth Pier on Saturday, March 30.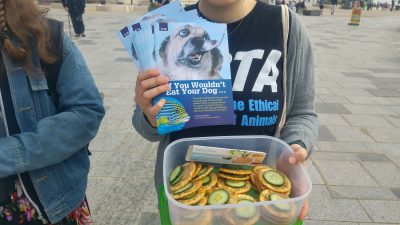 Laura Brown, who coordinated the event, said: 'like all animals, fish are individuals with personalities and a will to live and be free.
'Delicious vegan fish options are readily available. They offer all of the taste and none of the suffering or environmental destruction that comes with fishing.'
The pair were handing out vegan 'fish' alternatives to members of the public, which were made out of wheat gluten, soya protein and flavourings.
PETA announced in a statement that 'because humans drag fish out of the sea by the billions, their populations are dwindling drastically, and many species are close to extinction.'
Overfishing
The event was against fishing of any kind, but the National Geographic Society states that sustainable fishing might be the more ethical option.
NGS is aware the problem of overfishing, but it suggests consumers should be more aware of where they buy fish and seafood from.
They said on their website: 'Managing fish populations is no easy task. It requires cooperation at all levels of government, from local communities to nations across the globe.'
'Another way to prevent overfishing and bycatch is to simply abstain from eating fish and other seafood.'