Ash dieback disease has posed a serious threat to 80 million ash trees in the UK, spurring the government to launch a massive campaign.
Fungus Chalara fraxinea is said to be the deadly pathogen that is responsible for this disease, and has been the reason for trees dying in Poland since 1992.
A nursery in Buckinghamshire received a consignment of infected tree from the Netherlands in February,  and since then this devastating disease has spread like wild fire throughout the UK, according to Forestry Commission.
The fungus is said to attack young trees more, but forests and woodlands form an extensive part of 115 infected sites in UK. An emergency committee,Cabinet Office Briefing Room (COBR), was formed by the government to assess the situation.
An emergency tree health summit was held in November, chaired by the environmental secretary, Owen Paterson (Defra). Around 100  campaigners, and some charity groups came together to formulate an action plan to tackle Chalara, which was launched within a week's time.
With the help of various charitable organisations, an impromptu survey of 2500 blocks, each 10 km square, was carried out to check the prevalence of this disease in the region and 11 counties are said to be affected so far.
Ash dieback has managed to finally reach Northern Ireland, where it was first noticed in Aspatria, a town in county of Cumbria, according to the local newspaper Aspatrialocal.
In the action plan launched by the government following the summit, some key issues and steps have been outlined to tackle this devastating disease.
A collaboration effort between Defra, Fera, Forestry Commission, Natural England, Woodland Trust and National Trust is being carried out to track the disease regularly and educate people simultaneously.
Young affected trees were tracked down and destroyed while a ban has been imposed on further import and movement of ash trees within the country. A proposal is in pipelines to improve biosecurity
"We are dealing with a new disease for the UK and the science community is pulling together to provide as much information to allows us to take action as quickly as possible," said Ian Boyd, Chief Scientific Advisor to Defra.
The disease spreads only during and the government has "window of opportunity for action," said Paterson.
However the government has resisted the call for destroying matured trees in the affected woodland areas.
"This underlines widespread concerns that rapid and ill-considered action in our mature and ancient woods could do more harm than good.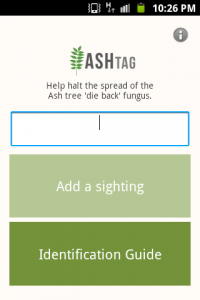 We do not want to remove small populations of resistant ash that may hold the key to the survival of the species across the country," said Sue Holden, Chief Executive of Woodland Trust.
Forestry Commission has issued warnings to various counties to be on a look out for this destructive disease and provided guidelines on how to fightback.
Organisations are also working on educating woodland owners and other enthusiasts and providing simple signs that can help detect possible infected trees.
The summit's action plan includes OPAL (Open Air Laboratories),a citizen science project and also promotes citizen sciences. A smartphone app called Ashtag was launched that allows people to take photos of suspicious sightings, tag them and send them to a team that analyses it.
This has helped the government task forces to map the areas of outbreak and take counter measures immediately.
The science community of UK is working constantly with its counterparts in other countries to come up with a solution to fight against this destructive disease and preserve the ash tree woodlands.
"It won't be possible to eradicate this disease now that we have discovered it in mature trees in Great Britain. However, that does not necessarily mean the end of the British Ash. We can find those trees with genetic resistance for the disease and restructure our woodlands to make them more resilient," said Paterson.