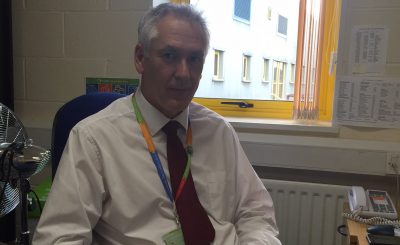 The Royal Bournemouth Hospital was opened in its current location in 1989 and has continued to serve the local community ever since. But have you ever wondered what non-medical work goes on behind the scenes on a daily basis to ensure the greatest possible experience for patients? 
Edwin Davies is the Associate Director of Estates at the Hospital. He is entrusted with that responsibility, and has a huge diversity of problems and issues to address throughout the week , including parking control, energy, building maintenance.
But it's no easy task, particularly when running a facility which uses up £1.7 million in electricity every year at the Bournemouth site alone. Minimising energy costs is a delicate balancing act, between finance and ensuring there is more than enough in a contingency reserve.
"We have to be very resilient, we are able to run self-sufficiently for about a week in terms of gas and electricity. The really difficult thing to have ready supply of is water."
Mr Davies added, "we are resilient with our waste too. We don't put anything into landfill, instead converting it into energy which heats up a portion of our hot water supply."
In addition to energy considerations, Mr Davies has dedicated funds to a GP surgery and Pharmacy in Christchurch, as the site of greatest present investment, following the completion of the Jigsaw Building for Oncology and Haematology in Bournemouth, in September of last year.
Patient suggestions are very much welcomed, and reviewed regularly. As a direct result of suggestions, many staff have enrolled on dementia awareness courses.
"I myself have been on a two day course which was really eye opening. It makes you consider the design of the buildings even more for areas where those patients are likely to go. The key for them is consistency as emphasised in the refurbishment of Ward 26."
It isn't just the product inside the hospital that has to be considered. Mr Davies employs a range of highly maintenance staff but there is a particular success that he was keen to stress. The hospital is currently up for a green flag award, having been nominated on the basis of the quality of the green space around the grounds. Should they win the award, they will be the very first hospital in the country to do so, and it will give recognition to the work done by the gardening team, whom can very often include students during the summer months.
Below is an audio clip from the interview with Edwin Davies: