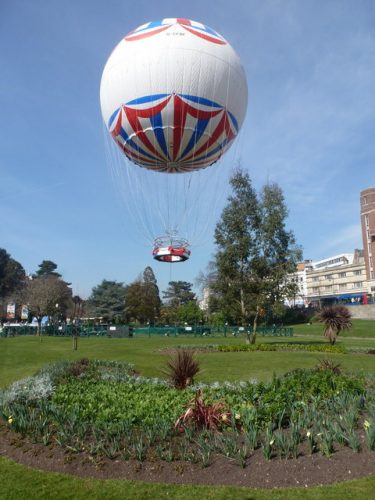 Local residents have waved good bye to the infamous 'Bournemouth Balloon' after maintenance costs became too steep for the fixture to remain in place.
The iconic part of the town's sky line for nearly two decades was removed last year for maintenance and it still hasn't made a return to its regular home in Bournemouth Lower Gardens.
Councillor Robert Chapman, the chairperson of the Lower Central Gardens Trust said: "Really the cost of new envelopes at around £400,000 is what has done it, it would have to be subsidised."
Cllr Chapman said that despite a survey last summer which showed a majority of people liked the look of the balloon, many found it too expensive. A kiosk selling coffee and ice creams was the only way it paid for itself.
An agreement could not be reached with the operator and Cllr Chapman said they were "not prepared to tie our hands down".
The balloon had been under the control of S&D leisure since 2002 and could carry as many as 28 passengers on every trip – taking them up to 500 feet and offering a total 360 degree view of the town.
There are various options for the replacement for the balloon, with the trust meeting in 8 weeks to discuss it. The big wheel, which was erected over Christmas at pier approach and will be again over the summer however, will not be taking its place.
The response to the disappearance of the feature seemed to be met with sadness, with one calling it "iconic to the Bournemouth skyline":
We're going to miss the Bournemouth balloon in the skyline. It's been quite a feature 🙁 pic.twitter.com/rYyZ5eSaTJ

— Miramar Hotel (@miramarbmth) March 7, 2017
@Bournemouthecho what attraction shall replace it? The balloon is iconic to the Bournemouth garden skyline! Such a shame

— Neil (@Absolute_knob1) March 4, 2017
Bournemouth council confirm the balloon will not be coming back, which is a shame as i will miss this view!@wave105radio @bmouthofficial pic.twitter.com/T2wUe1rcd1

— Waveslider Photos (@WavesliderPics) March 3, 2017
Shame. Got used to seeing it from along the coast. #Bournemouth #balloon https://t.co/laKqGAQRiE

— kerry bacon (@kelbacon) March 3, 2017
Find out more about the balloon
Take a trip to the Lower Gardens