A new scheme to help young disabled people has been set up and will soon be operating in Bournemouth's town centre.
The Safe Places Scheme provides a safe place for disabled young people to go if they become lost, confused or upset in the town centre.
Shops and council buildings such as the library will display stickers in their windows to let young people know that it is a safe place they can go to get help. Staff will also be given a pack of symbols and images depicting different scenarios designed by young people, to enable them to interact with people who have communication difficulties.
The young person will also carry a card that they will show staff with an emergency contact number to be called if requested.
So far all of the shops on Bournemouth's seafront have signed up to the scheme along with the Odeon cinema and they are currently awaiting training.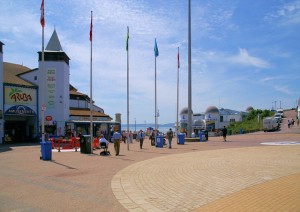 Disability Youth Coordinator for Bournemouth YMCA, Poppy Sargeaunt said: "We have got a training pack for businesses that has been put together by young people and we are hoping to start training next month. We are also trying to make staff more aware of disabilities as that is what young people have told us is important to them."
Poppy also said that the scheme is trying to get more businesses involved and that they have already approached Marks and Spencer and Animal in the town centre.
The scheme originally set up by Cornwall county council has been successful in other areas such as Basingstoke and Peterborough.
Pier approach Picture: Pierre Terre