A Bournemouth local was hospitalised with a possible leg fracture after a collision on Columbia Road early this morning, say police reports.
The driver of the blue MG ZR, a local man, escaped without injury but substantial damage was caused to the roadside in the single car collision which occurred near the Talbot Rise Club.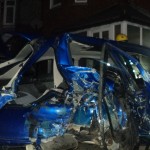 "I heard this really loud crashing sound." said Jean Dakar, an international student studying in Bournemouth whose house was damaged in the incident.
"I came outside because I was scared he had hit my car and saw the damage, it was crazy."
Three cars, including the driver's, were damaged in the incident, pieces of brick wall were strewn meters away and a lamp post was left overhanging the road with wires exposed.
Dorset Police reported that Columbia Road was closed at 5.45am in order to clear the debris, by roughly six-o-clock the electric company were called to fix the damaged light and the vehicle was recovered, the road is now reopened and all debris has been cleared.
All images credited: Jean Dakar