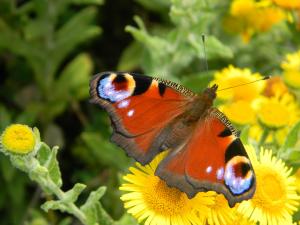 A seven-mile self guided trail through North Bournemouth's history and wildlife has been launched at The Hub Venue in Kinson.
The meeting was conducted by Bournemouth Council's PR volunteer officer, Richard Hesketh, with a presentation on the natural resources and wildlife in the area.
The trail is named after Dorset's famous smuggler Isaac Gulliver (1745-1822).
A leaflet with a detailed map and small descriptions of history and wildlife was given to everyone present in the meeting.
Mr Herketh said: "The leaflet is meant to link up all the green spaces in Northern Bournemouth and provide a pleasant walk through the wildlife. Each green space has different species of insects, reptiles, butterflies, trees and shrubs, which are rare and easy on the eye."
The path covers nature reserves like Turbary Common, Kinson Common and Cuckoo Woods Gulliver's walk.
Lisa Berkshire, who has done all the artwork for the leaflet said: "I have done a lot of research to bring an ancient look into the pictures. I had to look into Google maps for the aerial view to help perfect the map."
The on-site waymarkers and directions given on the map will lead through the green areas of Northern Bournemouth.
Cllr Roger West, who attended the meeting said: "The route was there all the time but Richard Hesketh has enforced a structure so that anyone can walk around the trail and enjoy the wildlife in the area."
The trail has been officially opened with a guided walk through the woods on Saturday morning 10:00 AM.
Local Historian, Rod Hasker said: "Gulliver has captured the spirit of adventure so the name given to the trail suits aptly."