BBC and ITV have announced plans to jointly create a new streaming service called Brit Box.
The new platform is expected to be subscription based.
While pricing hasn't been officially revealed, it's widely estimated to be around the £5.99 mark.
Trail runs in North America have already proven successful with 500,000 subscribers acquired between Canada and the US alone.
However, Brit Box doesn't mean the end of the iPlayer or Hub. Instead, both broadcasters intend to run it alongside their current offerings. The only difference being, Brit Box will be able to showcase content indefinitely.
Although, this isn't the first time the pair have attempted to launch a streaming platform.
Back in 2008, along with Channel 4, the main three broadcasters attempted to launch Project Kangaroo. But, their attempts were rebuffed by the likes of Sky and Virgin Media with the help of the Competition Commission.
Now it's 2019 and the streaming landscape looks significantly different.
Netflix and Amazon Prime each hold a significant share of the UK market. According to the Broadcasters' Audience Research Board, Netflix has 7.5 million subscribers, while Prime has 3.9 million – although this number is rising, fast.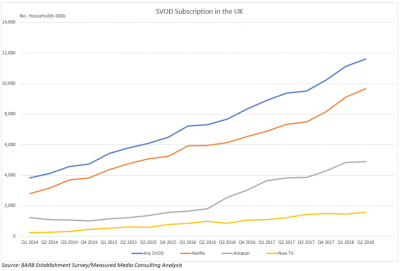 Regardless of the competition, The BBC and ITV must still do something to wrestle back, particularly young audiences, who they are haemorrhaging to not only the likes of Netflix and Prime but YouTube, too.
Students and lecturers from Bournemouth University, give us their opinion on Brit Box's chances of victory in the streaming wars.