Due to the coronavirus outbreak, the UK government has announced a lockdown but with some exceptions.
Despite lockdown, it's essential for some key workers to continue their day to day work. For that, the government has issued travel advice and extra measures for those who travel by public transport, helping to keep them safe.
The private bus and rail services, being the main modes of transportation for many people, were given special guidelines including:
· Traveling off-peak hours, keeping a 2-meter distance, wearing a mask, and washing hands after transport.
· Cleaning the coaches and stations more often.
· paying via contactless or payment apps.
Travel companies are also running their services with reduced timetables and fewer passengers, thus controlling the spread of the virus.
However, a highly-developed country like the UK is better equipped to keep these services going on.
Compare this to a developing country like India with a population of 1.38 billion people. Half of the population has an income below the poverty line.
Poor and middle-class families often cannot afford a private vehicle for commuting, meaning public transport is their only means of transport whereas 81% of people own a car in the UK.
Indian transport is run by state and central governments, where contactless cards or apps are unheard of.
After the Indian Prime Minister's announcement of a nationwide 21 day-lockdown on the 24th of March with no prior notice, the whole country was left stranded. The rise of Covid-19 cases extended lockdown till the 17th of May.
Many daily laborers, contract workers who were working in different parts of the country for a living left with no money, food, and no means of transport started walking for nearly 310 miles to reach their homes and villages.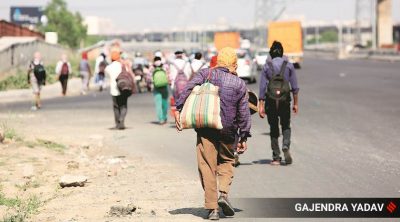 Some even lost their lives on their way back due to sunstroke and heart attacks.
Indian Railways which were introduced by the British in 1853 by Lord Dalhousie has become the fourth-largest railway network in the world, with more than 20,000 passenger trains running daily, and has never stopped in its 167 years of service – until the corona pandemic broke out.
Hence, two months after the complete national lockdown, Ministry of Railways announced that they would resume the passenger trains to prevent more  workers deaths and the criticism of prejudice against the poor:
'Hunger may kill us before coronavirus'
In addition to the "Shramik Special" trains for stranded migrants running with effect from 1 May 2020, railways announced on Sunday that it will "gradually" restart passenger train operations from the 12th of May.
Initially, 15 pairs of trains will run a special service with high safety measures while entering the stations and throughout the journey.
These trains will connect the country's capital New Delhi with major cities like Chennai, Bengaluru, Mumbai, Howrah, Jammu Tawi, Ahmedabad, Dibrugarh, Agartala, Patna, Bilaspur, Ranchi, Bhubaneswar, Secundrabad, Thiruvananthapuram, and Madgaon and will run on their scheduled timings and the bookings are open.
What do the citizens think?
Some people feel that this is a great decision, taken by the government to help citizens struggling in a dire need to reach homes.
Shreen Hamdani, who holds a Ph.D. in Media Studies, explains why this is a good decision.
Other voices believe that it's a premature decision by the government, as the cases are still rapidly increasing; and that this can lead to worsening scenarios, where half of the population can't afford basic food necessities or hospital charges, in case they become infected with the virus.