Residents living close to a British Pregnancy Advisory Service (BPAS) clinic have expressed their disappointment at the duration of their battle to curb protests there.
Following years of demonstrations outside the clinic in Charminster, it was announced last week that a 'buffer zone' has been put in place as part of a Public Spaces Protection Order by BPC Council.
The zone covers ten roads surrounding the clinic and is active between 07:00 and 19:00 Monday to Friday, ensuring no coincidence with the clinic's operating times.
Although the zone is there to protect locals and service users of the clinic from harassment and distress, many have expressed the detrimental impact that five years of protesting has caused, with one resident claiming 'it is too late'.
Miss Webb, 30, of Ophir Road, states:
'This has been our life for five years. It has been a nightmare, and we just had to watch it from our window every day. We had no choice but to pretend this disturbing behaviour isn't happening right outside of our home.'
'No matter what anyone's belief is, this hasn't felt like home any more.'
'We had written countless letters to the council, contacted the police, called anybody that we could for help. We were desperate. Nothing was done.'
The public consultation to implement the protection order generated a result of 75% agreeing that the safe zone should go ahead. It took until 31st August this year to complete the debate.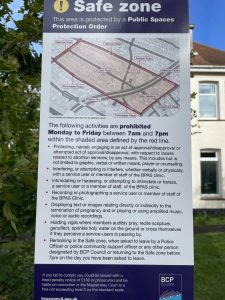 One 27 year-old resident, who has been personally affected by the protestors, claims the lengthy response to the situation has had a severe impact on her mental health.
She states; 'I used this service three years ago, and I am not ashamed to admit that any more, but every day I am reminded of it. It has definitely caused me trauma, they make you believe you are a murderer'
'I have watched women leave the clinic hiding their faces in shame'
Jessica Bone, local coordinator for women's rights campaign Sister Supporter has actively fought alongside BPAS for the protection order. She comments "It is no longer acceptable to harass somebody accessing their right to healthcare"
The buffer zone will remain in place for three years. The next steps are undecided.