Doncaster Rovers go top of League One with a late winner from James Husband, meaning no wins in five league games for The Cherries and despair for Eddie Howe.
The Bournemouth manager favoured young keeper Ryan Allsop over number one Shwan Jalal, but it was not enough to keep the league leaders at bay despite a strong performance.
AFC Bournemouth started well with a handful of chances in the opening ten minutes, most notably from Steve Cook who hit the bar with a thumping header after just five minutes.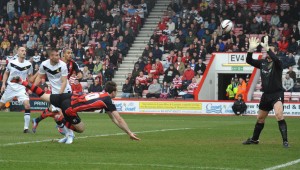 Brett Pitman came close as his diving header forced a save from Neil Sullivan, and Dan Seaborne headed from a cross, but it was caught comfortably as the atmosphere began to flag at Dean Court.
Both sides went in level at half time disappointing the home crowd, but the strong start by Bournemouth continued into the second period.
The Cherries had more chances early on, but a free kick from Bret Pitman drifting wide summed up the home side's overall luck.
Doncaster grew in confidence as Billy Paynter hit close range at Allsop, unknowingly offside, but The Rovers were soon able to catch The Cherries on the break, and Paynter got his goal after shooting from a tight angle.
Eddie Howe's men were not out of the running, and 15 minutes before the final whistle Lewis Grabban had Sullivan one-on-one, but hit the keeper sending the ball wide.
The Bournemouth manager went for an attacking finish in the final ten minutes, as he subbed Shaun MacDonald and Grabban for Steve Fletcher and Matt Tubbs.
After seven minutes on the pitch, Tubbs chipped the ball over Sullivan for The Cherries late equaliser.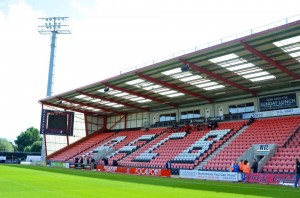 But the joy did not last for long, and two minutes after the Bournemouth goal Doncaster substitute James Husband slotted home following a Dan Seaborne block.
Cherries players piled forward for added time and in a heart-stopping moment Pitman hit the woodwork, but it was not enough to match The Rovers, and the game finished 2-1.
The result puts Doncaster at the top of League One as they push for automatic promotion. AFC Bournemouth remain in seventh place, as the top two spots look further out of reach.
The Cherries have now lost five consecutive league games, scoring just two goals while conceding ten.
AFC Bournemouth manager Eddie Howe said: "The lads gave everything and it was a very committed performance with a lot of technical quality, but unfortunately we just weren't ruthless enough and didn't take the chances that came our way."
"We would have closed the gap if we had won, but it's gone against us. But we live to fight another day and nothing has been decided. I believe in this team very much and I think we are only one win away from kick starting our season again."
The Cherries boss will take his players to The Lamex Stadium tomorrow to face Stevenage in the first of nine games left in League One.
AFC Bournemouth: Allsop, Francis, Cook, Seaborne, Ritchie, McQuoid (Fraser – 72), O'Kane, MacDonald (Fletcher – 78), Pugh, Grabban (Tubbs – 78), Pitman
Subs Not Used: Jalal, Hughes, Partington, Fogden
Booked: O'Kane
Doncaster Rovers: Sullivan, Quinn, Spurr, McCombe, Jones, Cotterill, Coppinger, Husband, Lundstram, Paynter (Bennett – 90), Brown (Hume – 89)
Subs Not Used: Maxted, Wakefield, Griffin, Howieson, Sinclair, Bennett
Booked: Coppinger, Husband
Attendance: 7,178
Main image from AFC Bournemouth Twitter.