An widely unknown yet international Evangelical Charismatic Church is spreading through Dorset. In a time when many local churches are in decline, Citygate in St. Swithun's centre on Gervis road is thriving.
The Citygate church is part of a community of churches called Newfrontiers founded by Terry Virgo in the 70's intended to be a more active community based Christian church. Citygate has planted churches in Asia, Africa, Australia, Europe as well as North and South America.
The church is not run by reverends or priests or part of the Church of England or the Catholic church, the church is run by a group of church elders who are all experts in theology but also have backgrounds experience in caring for those in need and communication, for example Elder Russell White had studied physiotherapy before joining the church.
Instead of a sermon, meetings are held each Sunday, beginning with half an hour of modern Christian music. The atmosphere was heavily charged with typical evangelical zealousness, various members were on their knees in prayer, some were crying as they sang.
The elders and members of Citygate allocated £900,000 to build the new church from donations from their own congregation, loans from charitable commissions such as the Talbot Village Trust as well as  a bank loan which was awarded to the church according to Elder White " because of our long standing reputation of generosity and good credit"
Due to overflow of members they hold two meetings each week and they are building a new church on Holdenhurst road. However when applying to build they had to strike a deal with a developer Witkin Jones to share the land with Dorchester house, one of the appointed Bournemouth university student houses, because funds were limited during application.
The new building will hold an estimate of 750 people compared to the 420 people  currently occupying the church. Already there are plans to plant more churches in Dorset and there is discussion of starting one in Bridport "Churches are in embryonic form" said Elder White.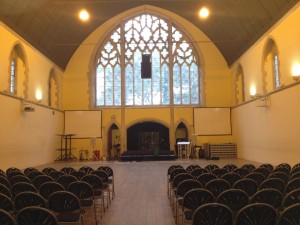 The most intriguing part beside their community work is their approach to sermons, led by Church elder Guy miller who instead of reading from the Bible and preaching in a traditional sense, presented passages from the Bible that are often misrepresented to support anti-semitism, and explained that they should respect the Judaist roots that Christianity was born from. "You can blank out Moses, but if you do that then you are sawing of the branches that are holding you up" said Elder Guy Miller.
They manage three halfway houses in Bournemouth alone which deal with helping those with drug addictions rehabilitate, as well as a programme run by Elder Miller's wife Heather Miller called  Streetlife which has for the past 14-15 years helped prostitutes get off the street.
The church also frequently visits rehabilitation centres such as Alington House in order to invite "people who have gone astray" to their meetings in hopes of rehabilitation through faith.
"We want Bournemouth to be transformed, to be known for God instead of nightclubs" said Elder White.
Alongside the other international spots Citygate has landed they are now planning to plant a church in Madrid, Elder Guy miller will be conducting language training there soon.
All images photographed by Nickta Rowaichi