Over a thousand lampposts were repainted across Bournemouth last year as part of the council's £1 million 'Smart Streets' scheme.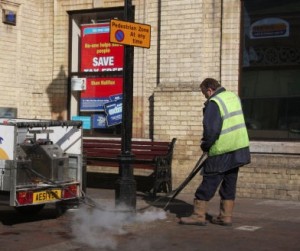 The project, which kicked off towards the end of 2010, is designed to improve the condition of Bournemouth's streets by clearing up mess and repairing existing damage.
Also repainted were over 300 sign posts, 460 road signs and almost 2000 metres of railings.
Councillor Michael Filer, portfolio holder for Transport and Technical Services, said: "I am delighted at just how much additional painting and maintenance we have achieved this year as part of our Smart Streets programme. From Southbourne to Westbourne and up to Kinson the town looks marvellous.
"The work has been done with proper preparation and the use of high quality paints which will mean the results should last us for years to come."
Stuart Best, the council's street services manager, said: "We want to achieve a good standard for residents and visitors in Bournemouth by making our streets as clean as possible.
I don't think that are any areas in Bournemouth that are of a particularly poor standard, but we have areas, like every authority does, that do need some improvement, so this is about targeting them."
Money was put aside for the scheme following a public budget consultation in October 2010, in which Bournemouth residents said that the cleanliness of local streets is one of the issues that matters most to them.