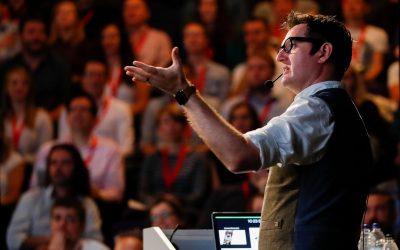 A former Bournemouth student and entrepreneur confronted the "very real human problem" of mental health at a recent Bournemouth digital conference.
A digital innovator, author and mental health campaigner, Pete Trainor urged peers to address the struggle that many face with mental health, and consider how new technologies such as mobile apps can be used to help.
"It's really about how we can use all the technology we've created to do something better," he said.
"With all the amazing analytics we have created and the hardware we now carry around, the fact that we have artificial intelligence in abundance – how can we use that to fix what is a very real, human problem? A problem that is killing people?"
Mr Trainor, a 1999 Bournemouth University graduate in computer-aided design, was among speakers at Silicon Beach at the Bournemouth Pavilion from 29-30 September.
The annual event aims to bring leading UK innovators together to discuss how digital technology can help address the challenges of the 21st Century.
"It's more of a conference, it's an experience," said organiser Matt Desmier.
"To see an audience engaged the way they are and talking about it the way they do – and it having a tangible impact on who they are and what they do – is incredibly rewarding".
He described Mr Trainor's speech as "very moving" after having invited him to the conference due partially to his links with the Bournemouth area.
A member of the council of the British Interactive Media Association, Mr Trainor is the Founder and Director of Human Based Design at his company, and the author of 'Hippo: The Human Focussed Digital Book' published in September.
NHS embraces digital technology for mental health treatment
NHS mental health vlogs posted online