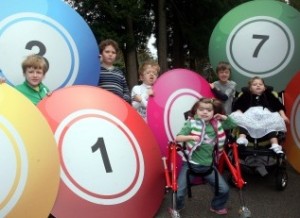 Dorset's only children's hospice, Julia's House has introduced its own lottery to help raise much needed funds.
Members can join the lottery for £1 a week, 50p of which goes directly to the hospice. The remaining 50p is then split between the prize fund and administration costs. You can join by setting up a direct debit online or downloading the form and sending it to the free post address provided.
Numbers are drawn every Saturday and a cheque is automatically sent out to winners. With a 1 in 63 chance of winning a prize of £5, £25, £1000 or £25,000 there's been 20 winners already this year.
The lottery aims to give the hospice some stability with what hopes to be a consistent flow of money coming in.
Lottery coordinator Emma Tipple said: "The lottery was launched to provide a predictable and reliable income for us as opposed to other fundraising channels that are less predictable. Also, this way people who donate can get something back in return for their support."
The innovative fundraiser is run by charity lottery scheme Unity, however Julia's House is hoping to launch its own in-house lottery in the future to be able to keep more of the money generated by members.
Currently they have 200 people signed up to the lottery but they need to have 3,600 people signed up by the end of the year to be able to fund its own lottery.
This new scheme comes after a difficult year for the hospice. Julia's House needs to raise £2.7 million each year to keep its services running. The lottery will help to provide some extra financial security at a time when fundraising is proving extremely tough.