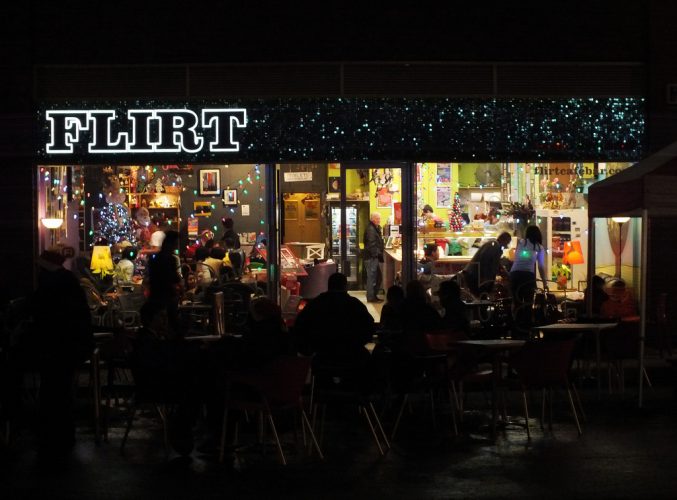 A cafe in Bournemouth that welcomes all types of people.
Flirt Café is located in the Triangle, Bournemouth. It is warm and suitable for everyone. The cafe is splendid, unique and it is a mixed-up which makes Flirt Flirt.
"In Flirt Café, we have Alcoholic Anonymous, social groups who are looking to meet partners, both straight and gay. We also have transgender people and people who prefer to dress as the opposite sex. We don't mind what anybody does, as long as they respect each other. Also, in term of staff, we have gay staff, straight staff, foreign staff, different minorities, transgendered staff, tattooed staff and dreadlocked staff, " says Peter Moody, the owner of Flirt Café, smiling proudly, while passionately telling us about the Flirt café.
Before Peter and his partner started Flirt Café, they were working in different companies until one day, when they decided that they wanted to work together. They thought that the cafe business would suit them.
"Five years ago in July 2011, my partner and I came up with idea of the Flirt Café, because we had a café quite similar to this in the 90's called Legend. It was for all different types of people. For old people, young people, wealthy people, poor people, gay people and straight people. This is the modern version of the old one. However it's very similar with casual food, very welcoming, non-judgmental and available to everyone," explains Peter.
Diversity is something quite hard to understand. It has different meaning and requires a lot of understanding. When asked about what does diversity means to him, Peter says "Diversity is where different kinds of people live together and have respect for each other."
Flirt Café has won 2 awards including the People's Choice award by the Daily Echo in 2013 and the 'Equality and Diversity in the Workplace' award in 2015.
The 'Equality and Diversity in the work place award' was established by the Bournemouth diversity initiative and Bournemouth borough council. They were keen that people should be more diverse and should be more accepting of diverse types of people and genders. Therefore, they gave the award to a place where different types of people are able to live together with respect.
Flirt meets the criteria because of its diversity and non-judgemental characteristic. "We received this award because of our willingness to the diversity by employing a range of different types of people and welcoming every different types of person with equal respect," says Peter when explaining how he won the award.
Peter has also chosen to be the judge for this year's award. The place that Peter would give this award to should have diversity and respect for one another.
"The place that would received this award should have respect for those who might feel more vulnerable than others. The customer should respect the worker and the worker should respect the customer," says Peter.