Great Britain is dreaming of sporting success this summer, and Bournemouth University continues to champion one of the least-known yet most exciting Olympic sports, handball.
Accreditation up to level two will be available for students, teachers, sports development professionals, and anyone else with an interest in the sport.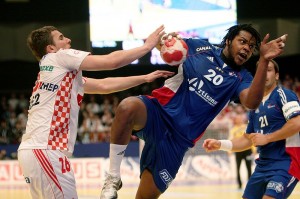 For BU students, the course enables them to teach handball to children on school placements, improving their CV and introducing the game to a younger audience.
The sport has been successfully coached to children as young as five in mixed gender groups, and an accreditation event held on Sunday 26 February attracted 23 players.
Senior Lecturer in Exercise Physiology, Kelly Goodwin is behind the initiative to teach level one, which BU adopted in 2004. "It is nine years since I started pushing handball," she said.
"It provides the students with an additional qualification and the knowledge of a sport which is versatile in a coaching environment. It helps to enhance the students employability and take handball directly into the community.
"There are few handball clubs across the land at present. This means that there are very few individuals trying out for the Olympic team which means that there is a unique opportunity to develop the sport and identify talent that is home grown."
Handball is played by two teams, with seven players on each. The aim is to throw the ball into the opposing team's goal, and the team that scores the most goals wins. It is a contact sport, played over two 30 minute halves. Miss Goodwin described the sport as "very fast, very powerful, high action, high scoring."
Currently, neither Great Britain's men or women rank in the International Handball Federation's (IHF) top fifty.  France are the current men's Olympic champions, while Norway hold the women's title. The sport made it's first Olympic appearance in 1936, only to be dropped until 1972.
Bournemouth University does not currently have a handball club, but Miss Goodwin has high hopes for the future. Bournemouth did once play a friendly match against Southampton University, however Miss Goodwin said that "the score is probably best left out!"
Main image | Kelly Goodwin