As the number of Covid-19 confirmed cases continues to grow worldwide, so does the need for essential supplies for those working to combat the deadly pandemic.
Supplies such as scrubs, medical grade masks, and headbands are now in high demand more than ever before, which is why Bournemouth clothing designer Hannah Merrie is using her sewing skills to make headbands, and give back to those risking their lives daily.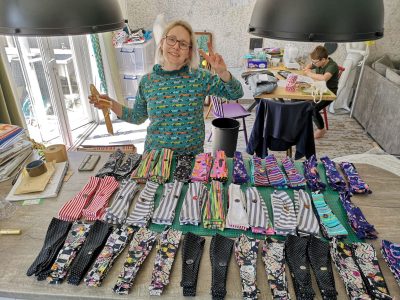 "I quickly saw that people were having shortages and people were tagging me saying, Hannah – can you make these?"
Initially Merrie planned to stop her job as a costume designer to help free up post for essential deliveries, but when she saw the necessity for essential supplies, she decided to start crafting again.
Having used the materials daily in her work life, Merrie says it was a no brainer, and found out quickly just how easy these headbands are to make.
So, with a needle in hand, she began making the headbands, producing nearly 100 a day with the help of loved ones and even some strangers.
"It's quite nice to have the support locally, which has made it easier for me," said Merrie.
Initially Merrie was relying on her own supplies to create the headbands, and despite her resources dwindling quickly, said she would have gladly continued.
Luckily for her, when a few of her friends and supporters caught wind of what she was doing, they too stepped up to help; offering her fabric, money and even help with the sewing.
"The people on the front line I am making them for, they are the ones putting their lives at risk, so all I am trying to do is make it that little bit easier for them," said Merrie.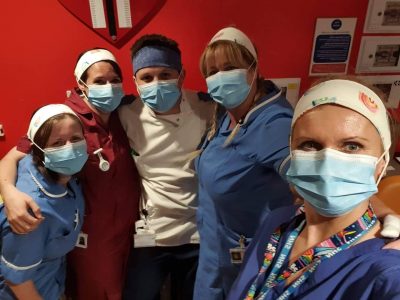 To date, Merrie has been able to make 1440 headbands supplying hospitals and NHS staff both locally and nationally.
While her workload has lightened since she started in early April, Merrie says she's happy to make the headbands as long as there is a need for them.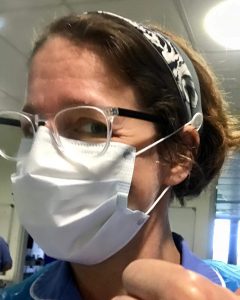 You can find more information on Merrie's headbands or how you can help her efforts on her page.
Checkout a video of Hannah's full story below: