Hip-hop fans headed to the Old Fire Station this week when GZA the Genius, of the Wu-Tang Clan, came to town. But would the man described as the brains behind the group that revolutionised the scene nearly 20 years ago be able to fill the stage on his own?
A Wu-Tang set feels incomplete without a bit of Method Man, the group member who has been most successful in his solo ventures. The support act, London based Micall Parknsun, did a good job of filling the hole. Not only emulating him through his look (Method Man's beard and baseball cap has become a bit of a trademark) and high energy delivery, but also through his heavy, almost rock-like beats and songs "for anyone who enjoys smokin' and drinking".
I asked Micall what it's been like touring with GZA. "He's cool, relaxed. He's one of the guys who's inspired me to be where I am now. So working with him is…wow. Just wow."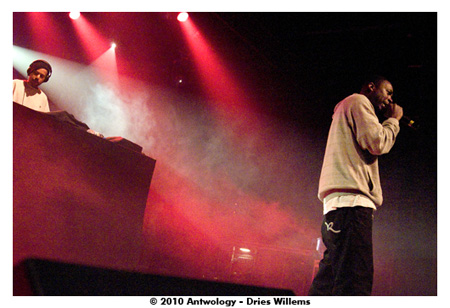 Excitement had been building throughout the support act, but an hour long wait threatened to stifle this. However, any lost atmosphere was recovered no more than 10 seconds after the hip-hop veteran burst on to the stage, instructing the eager audience to "pump their m****r f*****g fists", before going straight into four back-to-back hits from his solo albums.
The Genius knows a thing or two about working a crowd. During his fourth song he plunged himself into the audience, shaking hands as he recited his calm and calculated verses, then professed that "this might be my first time out here, but it aint my last."
GZA is not well known as a solo artist in the UK, so how long he could keep the crowd happy without playing some of the songs that earned him his notoriety? After 20 minutes they seemed to be asking the same question. The W symbols went in the air and the 'Wu' chants got louder.
GZA responded (or gave in) by asking: "who wants to go to the 36 Chambers?" Referring to the group's seminal 1993 debut album, Enter the Wu-Tang (36 Chambers). He performed just 30 seconds of Clan In Da Front, his solo song from that album.
The crowd was animated throughout, but the huge reaction to songs like Clan in Da Front, Shimmy Shimmy Ya (a tribute to ODB), and his closing song C.R.E.A.M, suggests that they weren't always engaged with the performer. It definitely felt like he lost them at some point. Ending on a song that he didn't originally record any verses on seemed like a desperate last resort.
His new album has been shelved, so instead of plugging that, The Genius encouraged everyone to get up to Oxford to see his lecture at the university.
Related articles