The candy perfume of lilies fill the air. The undulating beat of soft Latino guitar music plays in the background. Sunlight shines through the street windows, perfecting the smiles on faces of people inside. This place is as laid back as a sunbathing cat. If humans could purr, they would here. The clientele swan around in loose clothing, greeting each other warmly, a girl dances bare-foot. This isn't a Los Angeles health farm or tranquil beach bar. Welcome to upbeat Boscombe. Welcome to the juice lounge in the new Bikram yoga center on Christchurch street.
Angus Miller, 42, a trained nutritional healer and chef, and his partner Fay Hughes, 39, a former Occupational Therapist, run the newly opened juice lounge. They are aided and supported by their friend, professional life coach Sean Gardiner, 42.
I've just finished 90 minutes of Bikram Yoga-26 postures and two breathing exercises in 40 degree heat- and feel more spritely than a spring lamb. Now it's time for something energising, nutritious and detoxifying. It would be a pity to waste all that hard work in the yoga studio by eating poorly. Its time to get juicy.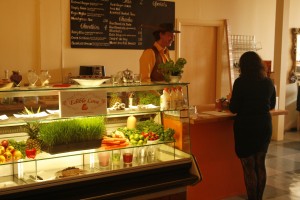 "How would you like to feel?" asks Angus.
It's not the usual first question you get asked in a cafe…
"Rejuvenated." I say. Angus knows just what to suggest:"Berry Bliss is good, so is chocolate; and this chocolate is good for you!"
I order a 'Beetroot Banger': beetroot, carrot, apple, ginger and lemon, on ice. Sean promises me my money back if it doesn't make me feel great. It's delicious. I hand over my cash. I feel great!
Angus tells me the lounge came together quickly. Literally, it happened by walking into the center, seeing the space and synchronising. "I walked into here three and a half weeks ago and was chatting to them about what they were doing with this space and then about two weeks ago we decided to take it on. So we built it last week!"
I look around incredulous, it's as if it has been here for years.
"The western diet is terrible."
We talk food. "The western diet is terrible." says Angus. " Anything that is processed is full of sodium. So we're really looking at getting the sodium out of the system, the caffeine, the sugars, especially the refined sugars and then wheat and dairy. Dairy is terrible stuff. We're really looking to alternatives such as oat milk and I make nut cheeses."
The juice lounge is a part of Fay's professional movement away from the "far end of ill health."
"I wanted to be in a movement where people were looking at existing health and pre-ill health, preventative health care." she says.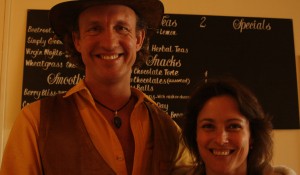 "So that is why I'm here. Rather than be at the other end of managing the problem let's put the right nutrition in now and do the right activities, like yoga. I left the NHS because full health wasn't being focused on. It was very much coming from the angle of deal with the problem when it occurs."
And what does Fay, who lives between Bournemouth and London, make of Boscombe?
"The first word that comes to mind is healing. Traditionally I knew that the spa was here, the natural spring waters were here. I think it used to be a healing town like Bath spa. And then knowing that there is quite a lot of rehab going on here detoxing and coming off addictions and so on."
"I had to travel half way round the globe to find out the things I felt I needed.".
Fay, Angus and Sean share a common theme in their life's journey. Travel, and learning from different cultures.
"I had to travel half way round the globe to find out the things I felt I needed," says Fay
Sean has made radical change in his life too: " I have had a background of over twenty years now of going out socialising and drinking because that's what people do and it has always made me feel bad afterwards." he says.
"It's  wanting to fit in.  It got to the point that I was so unhappy with what was going on  I went and lived in Brazil last year to do something different and break my patterns of living here. Angus has given me a lot of input and advice nutritionally on feeling good and feeling healthy. I've been eating  super foods and raw chocolate now for about three months  and I feel so much better inside myself , so much healthier, so much clearer.
"Now I spend less than what I used to spend on alcohol on raw chocolate and it's super food. It's good for your brain it gives you super nutrients by a factor of ten greater than anything else you can eat.
"We decided to open the juice lounge to give people the opportunity after they have done their yoga sessions to come in here and regenerate their bodies after they have dehydrated to put good stuff in, not go out and buy a lot of alcohol in Bournemouth afterwards."
"Sugar is highly addictive. It uses the same neural pathways as heroin"
"What you find is the more of this you drink the more you don't want the other stuff, you start to see the value in what was being wasted on rubbish and buying sugar.
"Sugar is highly addictive. It uses the same neural pathways as heroin", says Sean.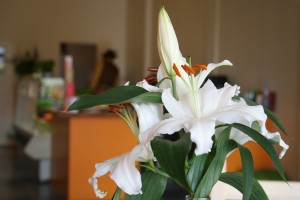 There is an interconnectedness between the yoga, nutrition and life coaching at the center.
"As and when people come to us there are answers, there are solutions, there are ways of totally transforming their lives." says Sean.
"It's a very powerful combination we have here for people when they are ready."
I ask a couple leaving the centre about their experience. "I love it. I'm coming back. It's the prefect combination."
Before leaving I overhear a conversation:
Angus: How would you like to feel?
Yogi: I wanna feel on top of the world!  (Angus recommends his healthy chocolate drink!)
Faye: And how is the Yoga going?
Yogi: It's just like life has gone bang and the light has gone on.
Main Photo: M.Perry
For more background to the story play audio below: