Former BBC Chief Correspondent and author, Kate Adie, spoke to some postgraduate journalism students about the essentials of the industry.
The highly-respected broadcaster began her tenure as the new Bournemouth University Chancellor earlier this month and will serve as an ambassador for the institution.
The Vice Chancellor, John Vinney, visited the TV studio with Kate to see some of the students in action, reading scripts and filming news stories.
She highlighted the importance of verifying news sources in the climate of fake news and spoke of the media's tendency to rely on other sources for information.
News is not news without verification
Speaking to some postgraduate journalism students about being at the news scene, she stressed that "getting your person there is an absolutely standard lesson…news is not news without verification".
Kate joked: "If you only have the station cat to send, send them!"
Distinguished career in journalism
Kate Adie has covered international conflict around the world, from the Gulf War to Sierra Leone.
She received an honorary doctorate at BU in 2015 and lives in the Dorset area.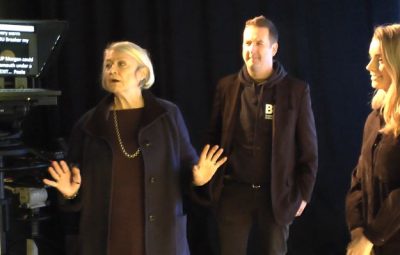 Dr Shelley Thompson, Head of Journalism, English and Communication, spoke about Kate Adie's visit, saying: "It was really wonderful for the students to have had the opportunity to meet her and hear her talk about some of the things they are trying to do themselves when they are covering their patches."
She added: ""She offered some really helpful and timely advice for them as they are preparing their work and finishing their packages."
It is hoped that the students can find inspiration from such a prolific figure in journalism and follow in her footsteps.