For part two of my whistle-stop tour of England's squad for next year's World Cup, ahead of today's group stage draw, I present the players who are almost certain to be present and correct in Roy Hodgson's setup.
Expectations are lower than usual after some underwhelming performances in a relatively straightforward qualifying group. This could benefit the team, who usually ride in the tournament on the back of overblown media hype only to promptly fall flat. Some of England, and Hodgson's first choice picks can rival most other competing nations – maybe.
So here goes, the likely lads, the new golden generation, the ones most likely to join Joe Hart, Ashley Cole, Steven Gerrard and Wayne Rooney in the touring party on the (potentially) three week jaunt to South America.

The Likely Lads
Keepers
Jack Butland
Starting from the back, as all attacks worth their salt should, the goakeeping position has troubled England for years.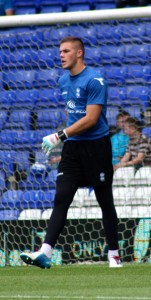 Paul Robinson, David James, Rob Green and Scott Carson all made costly errors in the mid to late 2000s, none managing to nail down the spot. But the roots of change are there. Charles Joseph John Hart (or Joe Hart for short) currently has the number one position sewn up – a positive sign given previous struggles to establish a regular national team keeper – but there are some fine alternatives at Hodgson's disposal.
Norwich City's John Ruddy, Jack Butland of Stoke City and Ben Foster, the West Bromwich Albion stopper, have limited international experience (Foster has the most with six caps earned before his premature retirement), but performances in the Premier League and Football League have been encouraging. Fulham's second-choice stopper David Stockdale is an outside bet but, provided he receives playing time away from Craven Cottage, he could have an eye on the second spot.
Defence
Gary Cahill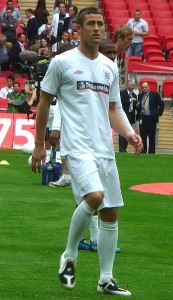 The backline provides more of a headscratcher for Hodgson. The players competing for the other three positions alongside Cole are talented yet the area of concern is that they lack that 'pick me' element that      German, Spanish and Brazilian internationals, among others, possess – even if they, too, have lost something of their invincible edge.
Most England fans will remember back to Euro 2004 when the 'problem' was in reverse – Sven Goran Eriksson, the incumbent of the national team, had the "luxury" of excess centre-backs. Sol Campbell,John Terry, Jonathan Woodgate, Ledley King were regular starters, and star performers, at Arsenal,Chelsea, Newcastle United and Tottenham Hotspur respectively; and all were competing for two places at the heart of the Swede's defensive plans. At right back, Gary Neville, like Cole on the opposite flank, was at the peak of his already illustrious career, even if he could not achieve everything he wanted to with his county.
But there are players in this position worthy of their squad place. Chelsea's Gary Cahill and Phil Jagielka of Everton have formed a reliable and solid partnership in competitive matches over the past year. The former, who started his career in the Midlands at Aston Villa, and has also played for Bolton Wanderers, is a regular at his club and has 22 international caps to his name. He plays mainly as the defensive anchor that allows potential World Cup foe David Luiz to stride forward from the back, but can also score the odd (usually spectacular) goal.
Glen Johnson, as a judge on an ITV reality show would say, has made right back his own, proving an ample replacement for Neville since his retirement. He represented England at the 2010 World Cup in South Africa, as well as Euro 2012, and Liverpool's ex-West Ham, Chelsea and Portsmouth defender is almost guaranteed to be at the 2014 fiesta.
A cross-field pass away Leighton Baines offers a real challenge to Ashley Cole. The Everton man's reputation and form has increased exponentially in the past few years, and despite not getting beyond a touchline warmup in Poland and Ukraine last year, Cole does have a fight for the right to party.
Joleon Lescott, of Manchester City, Manchester United's versatile Phil Jones (the youngest of the realistic defensive setup), Chris Smalling also of the reigning Premier League champions and Kieran Gibbs are great backup and should expect to get their passports ready.
 Midfield
James Milner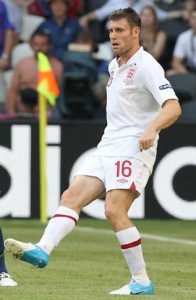 Arsenal have had a superb season up to now. Aaron Ramsey and expensive Real Madrid import Mesut Ozil have taken the column inches. But England's  Jack Wilshere has quietly got on with his job and made the Arsenal midfield a force to reckon with. Almost ever present, and pitching in with two league goals, including a goal of the season contender  have made 21- year-old Wilshere an automatic selection. The only reason for his absence on my first list is injury concerns (fingers crossed he is fit).
Frank Lampard is no longer guaranteed a starting berth, but at  two years Gerrard's senior, the three-time Premier League champion with Chelsea must surely be on the list of 23 names heading to Brazil. He reached 100 international appearances this year, joining an elite group including David Beckham and Ashley Cole to reach that milestone.He also overtook David Platt to become England's highest scoring midfielder, his 28 goals landing the record. Age does not matter in this case, as the 35 year old turns out midfield masterclasses most weeks at his club. Hodgson would be foolish not to take him.
James Milner and Tom Cleverley both divide opinion among supporters like no others – its as if the public have made their unswayable conjecture before a ball has been kicked in anger. Playing for the monied Manchester City and neighbours Manchester United respectively is part of the problem, but no-one can deny that they give their all for their country. Lampard can misplace a pass and all is right with the world; Milner or Cleverley overplay a crossfield drive and Twitter goes into overdrive. But I feel both have impressed to an extent that they warrant a place in a squad aiming for World Cup glory (oops, shh, we don't mention that).
A few other players have a substantial haul of caps and would definitely view themselves as being in the frame. Aaron Lennon last made the squad against San Marino in March, but the pacy Tottenham Hotspur winger gives another avenue to exploit. Scott Parker, now of Fulham, and Michael Carrick at Manchester United, are very much part of Hodgson's plans, but being similar players – strong, good on the ball, anchoring the midfield – could mean a straight fight for a spot. Alex Oxlade-Chamberlain, another incredibly quick winger, and Arsenal teammate Theo Walcott (who can play on the wing and further forward) have both been injured since early in the season, however should feature if they are injury free come May.
 Forward
Danny Welbeck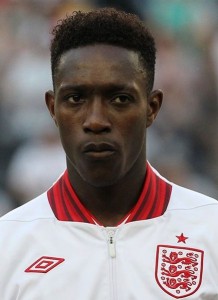 Finally, which of the players whose main purpose on the pitch is to kick, head, knee a spherical object into the net should Hodgson pick? Wayne Rooney is fairly certain of a starting berth, providing Hodgson goes with his favoured tradition 4-4-2 formation but who will join him in the striking partnership.
Well, Tottenham's Jermain Defoe is a safe bet if goals are what you are looking for – 19 in 55 appearances, including two in three this year. Notwithstanding the foreign arrivals purchasing using the transfer fee for Gareth Bale, he has kept his place in the club side. Defoe, who began at West Ham United and returned to Tottenham for a second time after Portsmouth ran into financial trouble, never lets his country down.  
Danny Welbeck has 8 goals in 20 international caps, but again his efforts and achievements are downplayed by the dissenting minority. Welbeck progressed through the Manchester United youth ranks, making his first team debut in 2008 and has since established himself in the United side. A partnership with club teammate Rooney has already borne fruit – and he has a good chance of playing a vital role in Brazil in 2014.
Namesake Daniel Sturridge has taken his performance level to new heights in the 2013-14 season, a deadly partnership with Uruguayan Luiz Suarez has been exciting to watch, if infuriating for rival fans. Scoring twice in 9 England caps, the player who has also represented Manchester City, Bolton and Chelsea gives Hodgson another striking option.
The verdict
Roy Hodgson has some tough choices to make, as more players take his eye in the coming months and play themselves into potential world cup stars. While Wilshere, Johnson and Welbeck should feel confident of their positions, others will be fighting for their spots.
Part 3, concerning the under and over the radar players who will hope to join the party, will follow next week. Adios.