Credit: Freepik
The Breaker brings you its round-the-clock blog with updates and news as Americans go to the polls in one of the most keenly contested, controversial US elections in decades. The American people will decide whether the last four years of Donald Trump has been good enough to reward him with another term or if his Democratic opponent Joe Biden has proven himself worthy of the presidency during his campaign.
On the ballot this election is many bitterly fought issues, such as COVID-19 handling, climate change and police reform following high profile incidents of brutality. Healthcare is also on the ticket, with Trump looking to repeal the Affordable Care Act, also known as Obamacare.
So far, over 100 million Americans have already early-voted, more than doubling the 47 plus million that did the same in the 2016 election. Although anticipated, considering the COVID-19 pandemic still infecting over 100,000 Americans daily, it is stunningly close to the 139 million total votes cast in the 2016 election.
This year the election will likely come down to the results in key battleground states, which are as follows:
Arizona
Florida
Georgia
Michigan
Minnesota
North Carolina
Pennsylvania
Wisconsin
Iowa
Ohio
Election coverage on The Breaker will be looking at the battles in all states, with regular updates on the polls and allegations of voter suppression and attempts to undermine the election process. Although it could be that we do not have a winner tonight, we will give you all the information you need until we have the nomination of the 46th President of the United States.
LIVE:
07/11/2020 – RESULT – After several days of drama and disinformation, many outlets have now declared that Joe Biden will be the 46th President of the United States. Even though Biden now has the correct amount of electoral college votes, Trump is still baselessly claiming that he has won the election. Thanks for following this blog over the last few days. If anything interesting happens over the next few months before Joe Biden's inauguration, I will post it on here.
I WON THIS ELECTION, BY A LOT!

— Donald J. Trump (@realDonaldTrump) November 7, 2020
14:05 – Pennsylvania – Joe Biden has overtaken Donald Trump in PA. He currently leads by 6000 votes, but this is expected to rise throughout the day. If this lead continues to increase, Biden will be the next President of the United States.
09:54 – Pennsylvania – Donald Trump still leads in PA, however, his lead has now shrunk to a mere 18,000. If Biden wins PA, Trump has no path to victory.
09:50 – Georgia – Biden overtakes Trump in GA. A huge moment for the election.
00:03 – Georgia – As Trump continues to ramble, his lead in GA has shrunk to 0.1%, currently only just under 3500 votes between the candidates.
23:47 – White House – Trump addresses the nation claiming that if you only count the "legal votes" he wins easily, not entirely clear what this means. Talks about election interference from big media and tech. He goes on to claim that there has been a "red wave", this is not the case so far and that Republicans have won the senate, even though are still several on-going races. Interestingly, he now refers to Joe Biden as "Mr. Biden", rather than "Sleepy Joe". The theme from this address is that President Trump is that the election is rigged against him, even though there has been no substantial evidence given.
23:00 – Pennsylvania – Trump's lead in Pennsylvania has dissolved, only 80,000 votes now separating the candidates with over 300,000 votes still to be counted. The remaining ballots are mainly mail-in and absentee and coming from Democratic strongholds. Still too close to call this rate yet, but word from the Biden camp is that they are confident they will win. If Trump loses Pennsylvania, he has no route to the Presidency.
22:55 – Georgia – Biden has clawed back the race for GA by 10,000. Only 9,500 votes separating the two candidates. Senate candidate David Purdue has now fallen below 50% of the vote which means the GA Senate race could go to a run-off election until January, which means Purdue and his Democratic challenger, Jon Ossoff would become the only two candidates. Currently, the Libertarian candidate, Shane Hazel, holds 2.3% of the vote and his votes and others would be up for grabs in the run-off election. This race could decide which party controls the senate going forward.
14:19 – Georgia – Donald Trump clinging to a 19,000 vote lead in GA. 60,000 votes left to be counted in democratic stronghold counties. If Biden can flip Georgia, Donald Trump would have to win in either Nevada or Arizona and he is currently trailing in both.
09:08 – Arizona – With AZ result still too close to call, Trump supporters gather at a crucial vote counting site in Phoenix. Some of the supporters are allegedly armed, many with semi-automatic weapons.
21:40 – Philadelphia, PA – Eric Trump speaks on Fox News, claims that Trump will win PA and the only way that Democrats will win is through foul play. Rudy Guiliani speaks next and is complaining about ballots not being allowed to be checked properly by poll watchers. No substantial evidence is given for fraud, and the race is still very much on in Philadelphia. Unfortunately, Rudy Guiliani is cut off by Fox News for them to announce that they project Biden to win Michigan…
21:19 – Michigan – CNN and Decision Desk have officially projected that Joe Biden will be victorious in MI by over 60,000 votes. This is one step closer to a Democratic victory as all Biden needs now is to hold in Arizona, Nevada and he has won the presidency.
21:16 – Delaware – Joe Biden addresses the nation in a speech focussed around respect for the American democratic process, and unity between all peoples of the US, regardless of which party they favour. No accusations were made of foul play or any calls for ballot counting to be halted. A stark contrast to the addresses of Donald Trump over the past 24 hours.
21:08 – Pennsylvania – As was feared by many, the Trump campaign is reportedly requesting the conservative packed Supreme Court to intervene in the case over PA counting mail-in ballots.
#BREAKING: The Trump campaign is asking the Supreme Court to intervene in the case over Pennsylvania counting mail-in ballots postmarked by Nov. 3, but arriving later. https://t.co/EC3sP3Ierc pic.twitter.com/1etUqRt79i

— NPR Politics (@nprpolitics) November 4, 2020
20:57 – Detroit, Michigan – Reports of "Stop the count" protesters trying to break into a ballot counting station in Michigan.
#BREAKING: Large, animated crush of "stop the count" protestors trying to push their way into TCF hall in #Detroit where ballots are being counted.

They're being blocked by guards at the door.

Pizza boxes are pushed against the window to obstruct view. It's tense. @NBCNews pic.twitter.com/zFhzd88skX

— Steve Patterson (@PattersonNBC) November 4, 2020
20:21 – Pennsylvania – Trump's personal attorney, Rudy Guiliani, is en route to PA to bring lawsuits which look to stop the counting of ballots and allow GOP lawyers access to polling stations. He alleges "massive cheating", however, there have been no indications of any foul play going on in Pennsylvania. Still, over 1 million ballots to be counted at this point. An official statement expected from the Trump campaign in the next few minutes.
En route to Philadelphia with legal team.

Massive cheating.@realDonaldTrump up by 550,000 with 75% counted.

Will not let Philly Democrat hacks steal it!

— Rudy W. Giuliani (@RudyGiuliani) November 4, 2020
19:29 – Michigan – GOP is ready to file a lawsuit to stop the counting of ballots in MI as they were not given enough access to watch votes being counted. Biden campaign has lawyers responding in an hour to these revelations.
19:01 – Wisconsin – CNN officially predicts that Joe Biden will win WI.
18:54 – Maine – Democratic Senate candidate Sara Gideon has called Republican incumbent opponent, Susan Collins, to congratulate her on winning. Democrats had hoped to pick this seat up to shift the balance of power in the Senate.
18:22 – Senate race – Democrat Senate candidate Mark Kelley is winning his senate race against incumbent Republican, Marta McSally in Arizona. This race would be a huge win for the Democrats in securing the Senate in their favour. Michigan senate race is too close to call at this point but leaning Democrat. Maine is an interesting case because if none of the Senate candidates gets above 50% of the vote then people can go to their second choice to push one above. Republican incumbent Susan Collins is currently winning but Democratic candidate Sara Gideon could pick up the seat if she is given votes from other candidates provided Sara Collins does not get above 50% of the vote.
18:07 – Georgia – Race tightening in GA with 200,000 votes still to be counted. Many of the votes outstanding are in predominantly Democratic counties. Trump currently leads by 80,000 votes but we will need to see how much the gap narrows as more votes come in.
18:04 – Wisconsin – Biden has a 20,000 vote lead in WI with just a few hundred more ballots outstanding. The Trump campaign is likely to request a recount, which is well within their rights. Typically, Wisconsin recounts usually only move by a few hundred votes so feeling in the Biden camp is that they are confident they have won WI.
15:25 – Georgia + North Carolina + Pennsylvania + Nevada –  Trump currently leading in GA, NC and PA. No networks have called the way these states will go yet as they are still too close to call. Trump narrowly losing in Nevada by under 8000 votes. Even if Biden wins Michigan and Wisconsin, if Trump holds NC/PA/GA and wins Nevada this will give him 270 electoral college votes, and therefore the presidency.
15:18 – General – Former Communications Director for Donald Trump, Anthony Scaramucci, has explained the situation regarding the GOP legal challenges to mail-in ballots in key swing states:
So we're clear: GOP legislatures prevented MI/WI/PA from starting to count mail-in votes earlier than election night – precisely to give Trump an opening to fight the results. Now some saying those votes shouldn't be counted at all. Can't have it both ways. Un-American garbage.

— Anthony Scaramucci (@Scaramucci) November 4, 2020
14:29 – White House – Trump baselessly notifying his followers that he has already won the election and that the Democrats are trying to steal it from him. He requests that polling be stopped even though all votes have not been counted entirely.
We are up BIG, but they are trying to STEAL the Election. We will never let them do it. Votes cannot be cast after the Polls are closed!

— Donald J. Trump (@realDonaldTrump) November 4, 2020
14:27 – Delaware – Some thoughts on the election so far from the Biden camp:
We feel good about where we are. We believe we are on track to win this election.

— Joe Biden (@JoeBiden) November 4, 2020
14:17 – Michigan – MI turns blue! Joe Biden now leading Donald Trump by 10,000 votes. This race is on the edge of a needle, still way too close to call as of yet. If Biden maintains his leads in Michigan, Wisconsin and Nevada he will get the 270 electoral votes he needs for the presidency.
13:59 – Michigan – MI polls are 95% reported and Trump is narrowly winning by less than 10,000 votes. Late votes in Michigan are mostly going to Biden at this point. If Trump can hold MI he has a much better chance of staying in office.
13:53 – General – Joe Biden has officially received more popular votes for the presidency than any candidate in history.
?BREAKING: @JoeBiden has officially received more votes for president of the United States than any candidate in History. And the counting isn't even finished yet.

— Kaivan Shroff (@KaivanShroff) November 4, 2020
09:09 – Wisconsin + Michigan + Pennsylvania + North Carolina – All four of these swing states currently leaning towards Trump. Increasingly looking like the victor will have to win at least two of these states. Many votes waiting to be counted are early votes which could lean towards Biden, however, too early to call in all four right now.
07:57 – Arizona – AP predicts key swing state AZ will go to Biden with 11 electoral college votes.
02:14 – General Update – Generic blue and red states filling the gaps. Biden still winning in Ohio and North Carolina, however, these races have tightened up significantly.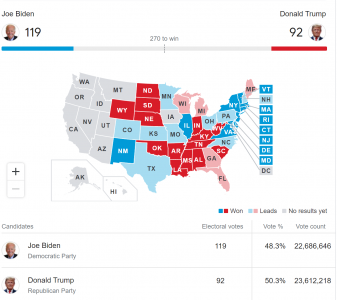 01:26 – Texas – Joe Biden has taken an early lead in Texas by close to 6% with 38% reporting. A win in Texas would be a huge gain for the Democrats and would make up for the potential loss of Florida.
01:22 – Kentucky – Senate Majority Leader, Mitch McConnell has been projected to win his much-anticipated senate race against Amy McGrath.
01:19 – Tennessee – CNN has called TN for Donald Trump with around a 45% lead so far with 11% reporting.
01:09 – Ohio – The race in OH is tightening, Biden currently ahead by 14% overall with 37% reporting so far. Although this race is by no means over, the fact that Biden is competitive in Ohio is a great sign for the Democrats as no Republican candidate has won the election without it.
01:00 – General Update – This is how the map is looking so far. Many north-eastern states unsurprisingly declaring for Biden and Missouri, Alabama, and Oklahoma going to Trump.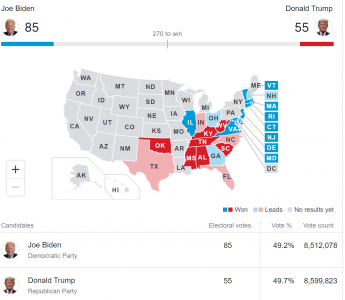 00:55 – Ohio – Biden is appearing to win the all-important suburbs in Ohio. Trump won them last time and it was the reason he won Ohio in 2016. Biden currently winning Ohio by 24% with 23% of the vote currently reporting.
00:49 – Reuters – Twitter and Facebook have suspended several right-leaning news accounts posting information about voting in the US election for violating their terms of service. They were reportedly banned for "coordination", which means the accounts were posting identical content and engaging in automated behaviour.
00:45 – Georgia – Some interesting exit polls coming from GA. Trump won college-educated white voters here by 41 points in 2016. He is currently down to single digits in this category. Georgia is currently trending very narrowly for Trump with less than 10% of the estimated vote in.
Trump won college-educated White voters in Georgia by 41 points in 2016. Early exit polls right now show Trump's lead with college-educated White voters in Georgia down to single digits in 2020.

CNN

— Political Polls (@PpollingNumbers) November 4, 2020
00:36 – Florida + Vermont – Associated Press have given Vermont to Joe Biden. In Florida, Joe Biden is currently 100,000 votes ahead of Trump. A very close race here.
00:34 – West Virginia + Kentucky – Associated Press has predicted that Donald Trump will win in both of these states giving him 18 electoral college votes so far.
00:13 – Florida – Some counties in Florida are coming in now, Hillsborough county going blue so far, a key county in the race. Joe Biden looks to be making some gains in counties that Trump won in 2016. If he can win back some territory from Trump then Democrats could be competitive in Florida. Biden is also winning the popular vote in FL so far.
23:52 – Indiana – Trump currently has a very strong lead in Indiana. Up 28% on Biden at this point. Indiana is VP Mike Pence's home state and is expected to go red at the end of the election. UPDATE: NBC News has now called Indiana for Trump.
23:38 – Kentucky – Joe Biden currently has an 11% lead in KY with 8% of votes in and is up 50% on Trump in Fayette County, the 2016 race in this county was not even close to this. Very early doors at this point and we do expect KY to go Republican by the end of the night, but if Biden can close the gap from 2016 in a red safe state such as Kentucky this could be very telling of other states such as Georgia or North Carolina, which have much tighter races. NOTE: A lot of these votes in Kentucky are early votes which are majority Democratic.
23:14 – Kentucky + Indiana – Polls starting to close in KY and IN. Trump expected to win in both as they are both traditionally Republican states.
22:46 – Florida – Republicans now have a raw vote advantage of over 200,000. Almost 4.2 million Republican votes and just under 4 million Democratic voters so far.
Republican raw vote advantage now over 200k in Florida.

Rep's: 4,199,104
Dem's: 3,995,339
NPA: 2,544,855

— Political Polls (@PpollingNumbers) November 3, 2020
22:24 – Pennsylvania – Republicans are reportedly keeping legal routes open to challenge the counting of absentee ballots in PA. Two federal lawsuits aim to exclude ballots that arrive after the polls close today.
22:06 – CNN – Exit polls suggest that 48% of voters believe that the current administrations handling of the COVID-19 pandemic was good. Daily US COVID cases are at around 100,000 and close to or above 1000 deaths.
21:33 – Pennsylvania – Reports of several hour lines at PA polling stations. This has been attributed to sheer turnout rather than any foul play. Pennsylvania is one of the most important states in this election.
21:25 – North Carolina – Results in North Carolina are set to be delayed by at least 45 minutes after voting at four locations was delayed this morning, leading officials to extend opening hours at the sites. Therefore, the state cannot release any statewide polls until 20:15 EST.
20:36 – New York – NY Attorney General probing reports of Robocalls to "Stay home". Similar reports echoed in Iowa, Michigan, Nebraska and North Carolina. FBI involved now as well.
Voting is a cornerstone of our democracy. Attempts to hinder voters from casting ballots by spreading misinformation is illegal and will not be tolerated.

That's why I am actively investigating robocalls allegedly spreading disinformation.

— NY AG James (@NewYorkStateAG) November 3, 2020