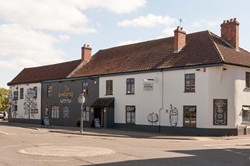 A local pub situated in the heart of Weston-Super-Mare is now facing confirmed plans of being refurbished into newly built houses. 
The local pub and restaurant which is situated in north Worle, was first built in the early eighteen hundreds and has been a large part of the Worle community ever since.
The community who knew the pub as the New Inn before it was renamed The Woodspring in the 20th century, has become a local to many individuals who often meet up weekly to play darts or games of pool. 
We have interviewed Ian who is a regular at the pub. Ian was born during the first world war and has told us how devastated he is with the new plans for the pub, after having visited the pub most of his life.
"I have been to this pub every week for over the past twenty years, I have made lifelong friends and family and feel a sense of community every time I walk through the doors".
"Getting older I am a lot more lonely due to the loss of close friends and my wife, so the Woodspring has been somewhere I can go to meet with friends and have some fun".
"I am scared about not being able to go out and socialise and the impact that will have on me in general. Whilst the pub was closed during lockdown I became a lot more anxious after not socialising for a long period of time due to the pub being closed".
We have also spoken to Mary who is also part of the community with her child visiting the local school behind the pub. We asked Mary her views on the situation.
"I feel that it will be good for families wanting to move closer to the local schools but it is a shame to see it go after the positive impact it has had on the community since it was first built".
The company Litfield Land Ltd has submitted an online planning application to demolish the local pub and build three-bedroom homes with parking spaces on the site.
There were also recent plans to refurbish the pub into a nursery for children between the ages of newborn to five years old fell through after the proposed buyers withdrew their interest for unknown reasons and the pub was then put up to be sold. 
The council have created a survey for the locals to voice their opinions on the proposed development. Click on the link to see the survey.