Sunday's drab affair at Stamford Bridge will not be remembered by events on the pitch, but rather for the hostile reception received by Chelsea's latest managerial recruit, Rafael Benitez – the like of which has rarely been seen in English football.
Last week, Benitez became the club's ninth manager in as many years as he was brought in on an interim basis, replacing crowd favourite Roberto Di Matteo.  If before it was unclear how fans of the London side would welcome this appointment, large sections of the crowd used Sunday's match as a platform to vent their obvious distain.
Prior to kick off, the Spaniard was met with chants of "we don't want you here" and banners reading 'Rafa out'. The outpouring of hostility continued during the first half as fans applauded throughout the sixteenth minute – Di Matteo's former shirt number.
While it is difficult to feel too sorry for Chelsea fans, given the great success that they have experienced under Abramovich's ownership, one can sympathise with their reaction to Di Matteo's brutal sacking. The Italian revitalised a beleaguered Chelsea side to an FA Cup triumph, as well as Champions League glory, and has been rewarded with his P45 at the first sign of trouble.
Say what you want about the Chelsea owner, but at least he is consistent. In his time at the club he has overseen the sacking of eight managers, with only José Mourinho and Carlo Ancelotti lasting over a year at the helm. These two aside, the average time in charge for a Chelsea manager is roughly eight months, so perhaps Di Matteo was already on borrowed time.
Although Chelsea fans are clearly aggrieved by Di Matteo's dismissal, much of the ill feeling towards Benitez probably stems from the heated Champions League ties that occurred throughout Benitez's tenure at Liverpool.
In the run up to their 2007 European clash, Benitez riled Chelsea fans by accusing former Blues striker Didier Drogba of diving, and also by insinuating that the fans themselves are plastic and lack passion. Football fans have great memories when it comes to negativity towards their club, and so it is not surprising that the comments have resurfaced in the wake of Benitez's appointment.
Perhaps somewhat ironically, Benitez's history with Liverpool probably played a large part in Abramovich's decision to bring him to Stamford Bridge.
[one_half]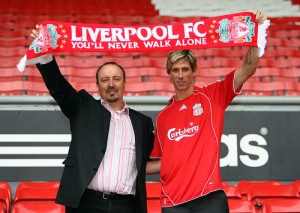 [/one_half]If Benitez can get Chelsea's £50 million flop, Fernando Torres to show anything like the form he did in his time at Anfield, fans will soon put the animosity behind them. However, this seems unlikely with Torres showing few signs of improvement and also being touted with a
move back to Spain
in January.
With much of the Chelsea 'old guard' having already left the club, and others such as Ashley Cole and Frank Lampard seemingly looking to also move on, this is very much a transitional season for the London side. In this regard, it seems unlikely that Roman Abramovich would not be open to hiring Rafa Benitez on a full time basis if he performs well in the remainder of this season. That is unless the highly sought after Pep Guardiola becomes available in the summer, which at this stage looks improbable since the former Barcelona coach has recently stated his aversion to the 'revolving door' approach to management that Abramovich has implemented in his time at Chelsea.
Chelsea fans will not want their season to be defined by the hostility shown to their new manager, and so although it may be a long road ahead, Benitez does have a future at the club. He has been in football long enough to quickly move on from Sunday's fierce reception and begin his attempt at becoming more than just another human shield for Roman Abramovich.
Main image: Thesportreview