Over 250 advertisement cards will be placed on trains and in railway stations next week to attract Londoners to Bournemouth.
Bournemouth Coastal Business Improvement District (BID) has joined forces with Bournemouth Tourism to promote the town as a place to visit this Spring with over 200 events to attract visitors.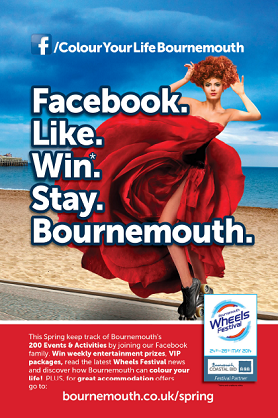 BID manager Alun Williams said, "One of the things we always do in our advertising and promotion of the town is to make sure we highlight an image of the coast because that's what makes us different for somebody who lives in London.
"We know from research that's been undertaken by Bournemouth Tourism, Visit England and the National Coastal Tourism Academy that London is a very important market for Bournemouth as it's within an easy travel time."
The promotional posters will feature on South West Trains' main London route and in South London train stations such as Vauxhall and Clapham Junction.
BID are also running a competition to encourage visitors to come and stay in town for a minimum of two nights before 30 April.  People also have the chance to win a four-night VIP package for the Wheels Festival when they book a hotel stay. BID have chosen "Colour Your Life" as their promotional theme.
Bournemouth wants to use this opportunity to encourage visitors to keep returning throughout the year. Mr Williams said, "I think one of the key things is that when people come to the town there is so much to do that they can't do it first time round so when they go home they feel the need to return.
"The National Coastal Tourism Academy are working hard on the experience side of things to make sure that whoever people meet in Bournemouth from taxi drivers to hotel receptionists will offer a good experience."