Many people have taken it upon themselves to dust off their sewing machines and help create PPE and scrubs.
With COVID-19 providing a reason to change scrubs more frequently, and with more members of staff in hospitals, scrubs are another thing that are now in short supply.
The Breaker spoke to Rebecca Merchant, 22 from Harrogate, who is making scrubs in her spare time, after using Scrub Hub to find her local group after hearing about it from a friend.
It has been both a great learning curve and rewarding.
Rebecca has been making scrubs since lockdown began, she tells us "I wanted to use it as an opportunity to learn to use my sewing machine I inherited a few years ago."
"I then found out about a group called Harrogate Scrubbers who were making a variety of items for hospital staff including scrubs and headbands. I really wanted to do my bit to help out during this time, so I chose to join the group and help out".
Rebecca tells us that she is a beginner at sewing and found the scrubs both a bit daunting and challenging, but she is enjoying the challenge and says "it has been both a great learning curve and rewarding, as I know I'm doing my bit".
She says the Harrogate Scrubbers "are a great group that provide the sewing patterns and even the materials as they came and dropped it off. The group has kindly had lots of donations from fabric shops and have also raised a lot of money through fundraising to pay for materials."
The group has managed to raise £16,000 over the last two weeks which is an incredible achievement, with over 650 members. Many have been sewing, others delivering materials, and with even more people donating.
The Harrogate Scrubbers were created from Scrub Hub, an online organisation, showing areas of the UK with private groups to the public so they can create their own scrubs.
They also have donation options, request scrub options, and encourage people to set up their own groups. With over 40,000 Facebook members and 115+ regional volunteer hubs, together they have created thousands of pairs of scrubs and raised thousands of pounds.
Alaine Griffin, 67 from Oxfordshire, has also been making scrubs for the frontlines after hearing of Scrub Hub, ordering stacks of material and elastic online and downloading sewing patterns from a Scrub Hub page.
She has managed to create and wash her first few pairs and is eagerly waiting for them to be collected.
 I want to give an extra little thank you.
Having sewed for years she jumped at the chance to help out, telling The Breaker "It was a no brainer, as a full-time carer I have the time and the scrubs were a new challenge which are quick to make and are pretty straight forward to do."
In the meantime, Alaine has also created NHS keepsakes including hanging love hearts branded "Thank you NHS", and puppet sized teddies. She plans to add one of these to each scrub packaging "to give an extra little thank you to anybody who receives my scrubs".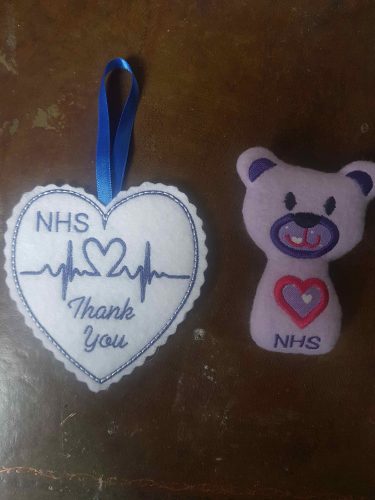 If you too would like to create scrubs, you can join or create a local group by visiting Scrubhub.org.uk.