Coastal services in Poole are attempting to harness nature in order to protect the coastline from erosion.
This week a study funded by the Environment Agency has started investigating ways of regenerating vegetation along Whitley Lake sea defences in an attempt to avoid constructing costly new coastline walls.
Poole coastal manager Stuart Terry said: "By investigating ways of working with nature we hope to avoid or delay taking measures such as increasing the height of the wall around Whitley Lake when sea levels rise."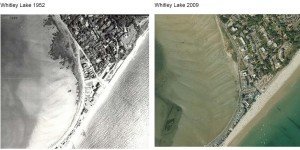 As part of the study, researchers will investigate ways of creating and regenerating a salt marsh foreshore in front of the sea wall at the popular windsurfing area along Banks Road.
"It is widely understood that salt marsh is a natural coastal barrier helping to reduce the impact of waves breaking on the foreshore," said Mr Terry. "This reduces subsequent erosion of the foreshore which puts the existing sea defences at greater risk."
During the study, which is set to last for the next five years, three trial areas will be constructed along Whitley Lake, each using a different material to encourage the natural build-up of sand and silt. It is hoped that this will raise the level of the sea bed and should encourage salt marsh or marram grasses to grow.
Cabinet Portfolio Holder for the Environment in Poole Councillor Xena Dion said: "We apologise for any inconvenience this may cause to people using the area. However, it is vital we preserve the coastline as well as ensuring the stability of our existing sea defences to safeguard the borough."
"As well as protecting the assets behind the sea wall, the reinstatement of sand dunes and salt marsh is an important natural habitat for birds and other wildlife," added the Councillor.
Main image credit: Poole Borough Council